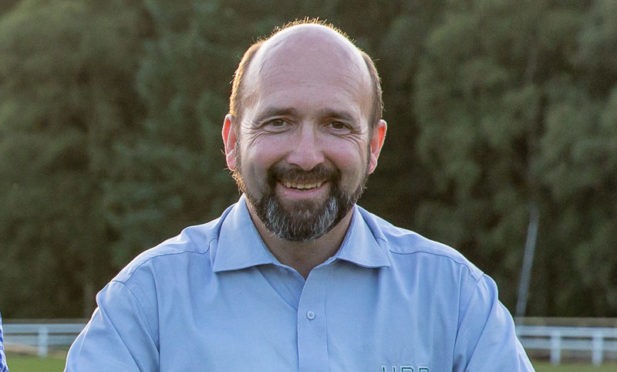 A top official at one of Scotland's biggest agriculture events has been fined £750 and given a two-year non-harassment order after being convicted of stalking his estranged wife.
Turriff Show vice-president Alan Gaul tried to get his marriage back on track after being told his partner was in a relationship with her fiddle instructor.
But he was found guilty after trial last month of engaging in a course of conduct likely to cause fear and alarm to her between January and June last year.
The court heard that 49-year-old Gaul, of Turriff, had "suffered the ignominy of front page news".
His lawyer, Debbie Wilson, said: "He has lived with this for over a year. He is a first offender and assessed as low risk of re-offending. He will have to go through disclosure again as vice-president of the show but this offence does not involve dishonesty."
During the trial, the court heard that Gaul had wanted to know who the new man in his wife's life was, while at the same time trying to save his marriage.
So when he discovered one of her personal messages on his business computer, he read it and found out that she was going to stay at the Ardoe House Hotel near Aberdeen.
He booked in as well in late February and the following morning encountered the couple in a corridor.
The court heard the couple were convinced they had been followed as they insisted they had told no one of their tryst.
Gaul told the court he had received anonymous messages that indicated his wife was seeing someone, and went to the hotel after reading one of her computer messages.
Beforehand, he had been sending her repeated texts and e-mails, and calling her trying to save his marriage which hit the rocks in early January. She had moved out of the marital home to live temporarily in Inverness to "get some space."
Communication continued, the court heard, until June, with the victim then telling her estranged husband that their six-year marriage was over.
After a two day trial, Sheriff Neilson found stock control manager Gaul guilty of causing his wife fear and alarm at Glenburn Drive, Inverness, Ferry Road, Beauly and Ardoe House Hotel by sending e-mails and text messages to her and attending uninvited at the hotel where she was staying.