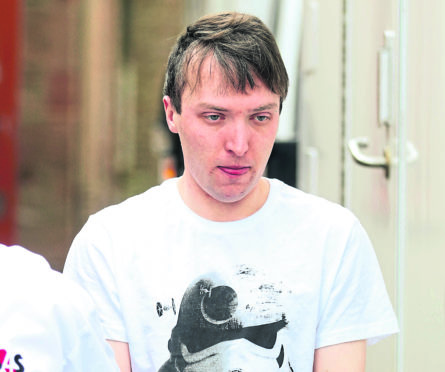 A high-risk sex offender already serving a sentence for taking young boys on a road trip will spend another 14 months locked up for possessing graphic videos of very young children.
Scott Murray, described as a prisoner in a Perth psychiatric hospital, had previously been banned from being in the company of any boy aged under 16 – but had gone on a road trip with two youngsters in February this year.
He was under a 10-year Sexual Harm Prevention Order which was granted at Inverness on July 20, 2015. However, when he was arrested, his mobile phone and computer were seized and the obscene material – of boys as young as one – was found.
The 33-year-old appeared at Inverness Sheriff Court yesterday, and admitted possessing the videos.
Fiscal depute Ross Carvel told Sheriff Margaret Neilson that 99 of them were of the most graphic and depraved kind.
Lawyer Willie Young said that his client had hoped that this case would have been dealt with at the same time as the order breach offence in April.
However, analysis of the phone and a computer which was also seized took longer than expected and it was not possible to have them dealt with in tandem.
He added: "With the exception of 10 videos, they were all found on elderly mobile phones and there was no distribution of the material.
"They couldn't be readily viewed without complex software."
When Murray's road trip breach was dealt with earlier this year, the court heard that in March 2017 he was sentenced to a 21-month jail sentence for looking at boys in a north leisure centre, and then released early.
Murray's latest breach occurred between October 1 last year and February 5 this year.
Fiscal depute Robert Weir said Murray met a teenager in Inverness on February 5 in his car at about noon.
The teenager was reported missing to the police by his mother later that evening after he failed to attend school.
Officers were told by her that she believed him to be in the company of a man called Scott in Dundee. Police suspected that Murray was involved and mobile patrols were alerted to keep a look-out for his car.
It was seen later that evening heading towards Inverness. Police stopped the car and inside were three teenagers.
Mr Weir said subsequent investigations revealed that 33-year-old Murray had taken the boy to Dundee and had been in regular contact with him since the beginning of October the previous year.
They met regularly, and he would be taken by Murray to fast food restaurants, another location in the Highlands and Dundee.
The boy had also stayed at Murray's then home in Inverness.
Police also discovered that a second boy, of primary school age, had also met Murray and had been lured into his car to be supplied with food and drink, Mr Weir added.