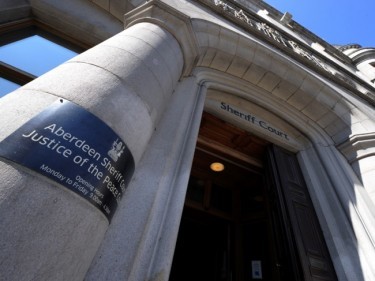 A man has appeared in court after terrifying a fellow driver into mistaking his toy pistol for a Glock handgun.
Michael Simpson, 20, appeared at Aberdeen Sheriff Court yesterday and admitted brandishing the imitation weapon and using it to threaten another motorist on the A90 Aberdeen to Dundee road.
Fiscal Felicity Merson told the court that the incident took place near Blackdog around 6.20am on Tuesday.
She said: "Both were both driving on the A90 and the accused overtook the complainer, who was not impressed with his driving.
"He shook his head when they passed again, and the accused also didn't appreciate this and gestured back.
"The two cars continued and passed each other again when the complainer was slowing to enter a slip road.
"He turned to look at Simpson who was driving alongside and saw he was holding what appeared to be a black handgun."
The court heard that the man had believed the £1.99 toy was a genuine Glock 9 and had been terrified as a result.
He called the police and at 1.30am yesterday morning Simpson was traced.
Sheriff Ian Wallace deferred sentencing on Simpson, whose address was given as Lendrum Terrace in Peterhead, in order to obtain more reports.
After brief discussion over whether the "gun" should be forfeited to the court, Simpson's defence, Iain Jane, expressed doubt at the need.
He explained that the gun had been bought for £1.99 at Aden Park during a Halloween event last year.
He said: "My client has no previous convictions.
"This was a commonplace road rage event that was taken to the next level."