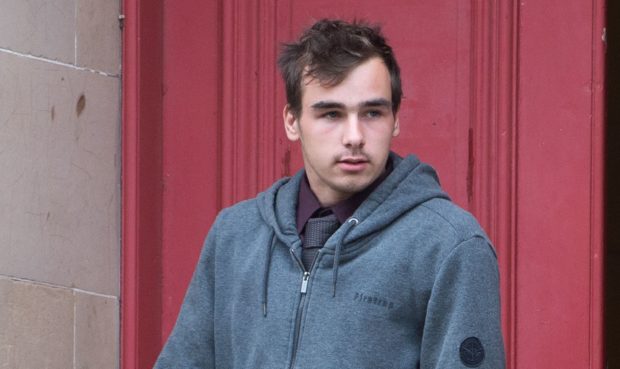 A teenage driver has been told he "could easily" have caused a fatal car crash as he led police on a 100mph chase.
Jack Bartholemew, from Cairnie near Huntly, flouted speed limits on the A941 Elgin-Rothes road as he raced through villages and around tight bends.
Police, who followed the 19-year-old in an unmarked car, struggled to keep up with the Vauxhall Corsa during the nine-mile chase on Friday, August 16.
Officers eventually caught up with Bartholemew and activated their blue lights after he stopped in a lay-by near Rothes.
But the former construction worker reacted by driving onto nearby grass to evade them and trigger another chase.
The teenager eventually gave himself up after switching on the hazard lights and pulling into a turn-off for a quarry with a damaged front tyre..
He was banned from the road for more than a year after he admitted a dangerous driving charge at Elgin Sheriff Court yesterday.
Fiscal Kevin Corrins said the police's attention was drawn to the car after they watched it overtake another vehicle at a speed of "about 90mph" while in the 40mph zone leaving New Elgin on the A941.
He added: "Police followed at the maximum safe speed they could manage and were making no impression on the accused.
"When police later approached, the accused was found to be the only person within.
"Upon checking the vehicle, which had stopped in a puddle, it was noted that steam was coming from the tyres due to the heat.
"It was also noted a front tyre had come completely detached from the rim and it was running flat."
Sheriff Chris Dickson said: "This was appalling driving. This court unfortunately sees a number of fatal accidents, you could easily have been involved in one and killed someone or yourself with that driving."
Solicitor Kevin Anderson said his client had lost his job in the construction industry as a result of the offence.
He added: "Whether or not he was aware of the police presence, he shouldn't have been driving in that manner.
"There's no explanation that can be offered, he simply should not have been driving like that.
"The decision to drive away from police in the lay-by was a spur-of-the-moment decision he can't explain, he knows it was a foolish mistake."
Bartholemew, of Whitehills Farmhouse, Cairnie, was banned from driving for 16 months and ordered to perform 120 hours of unpaid work.