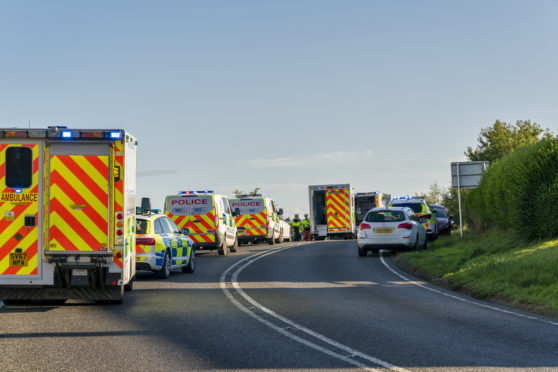 A driver has described the moment she saw a man hitting a "body" on the ground with a claw hammer.
Four men are on trial at the High Court in Edinburgh accused of attempted murder, assault to the endangerment of lives, breach of the peace and possessing knives.
Yesterday, Joan Stewart told a jury that as she was driving along the A98 Fochabers to Banff, near Cullen, on September 8, 2018 she joined a queue of traffic.
The 56-year-old said that after traffic started moving again, she saw three motorbikes which were parked in the "wrong direction" which she thought was "odd".
She then said she saw "an arm with a hammer… a clawhammer".
Mrs Stewart said that as she drove further along the road, she saw somebody lying on the ground.
She added: "I saw a body on the ground with somebody on top with a hammer beating the chap on the ground."
Ian Ewing, 44, of Stonehaven, Patrick Noble, 52, of Aberdeen, Kyle Urquhart, 22, of Aberdeen and Ian Yeomans, 57, of Peterhead, are accused of attempting to murder three other men – Alistair Thompson, Colin Sutherland and John Sutherland.
They are further accused of assaulting Edward Forrest and Nicky Syratt.
Prosecutors also say the four men committed a breach of the peace by having their faces masked, brandishing weapons and behaving aggressively.
During her evidence yesterday, Mrs Stewart said that after seeing the "body" being struck with a hammer, the man who apparently carried out the attack went away.
Mrs Stewart said she then saw the man carrying an "adjustable wrench".
She said that she drove further up the road she saw another person lying on the ground.
Mrs Stewart added: "I saw another body lying on the ground as well. He seemed to be unconscious and in a pretty bad state."
Mrs Stewart also told the court that she could see the people in the alleged incident were wearing "biker gear".
The four men have pleaded not guilty to all charges.
The trial, before judge Lady Scott, continues.