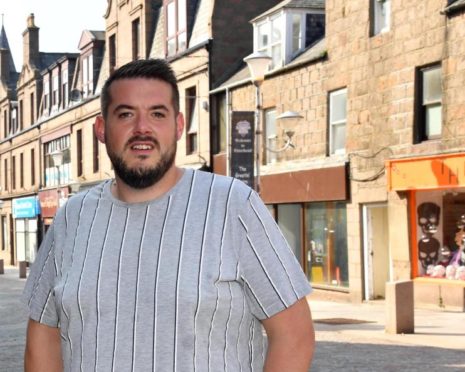 The co-founder of a men's mental health support group embezzled almost £10,000 from its account and pocketed donations from a funeral to help fund his gambling habit.
Aaron Ritchie, 32, admitted pilfering cash from the Men United's funds, leaving the Peterhead-based organisation with just £3.02 in its account.
Procurator fiscal Alison Reid told Peterhead Sheriff Court Ritchie took £9,792 from the group's bank account over the course of eight months while in the process of registering it as a charity.
She said: "In August 2019 the accused and Mr Alexander Garvick jointly set up Men United as a group to provide mental health support to men in the north-east of Scotland, and were in the process of being made a registered charity prior to this incident. However, trustees were never officially appointed."
The court heard the men then set up a Royal Bank of Scotland account in order to accept donations. Both had access to the account but it was registered to Ritchie's home address.
Ms Reid added: "The accused appeared to take the lead in terms of depositing cash donations into the account.
"On December 3 the accused contacted one man who had been receiving support from Men's United after the death of his brother. He contacted him to pass on his condolences and thereafter remained in regular contact offering support to deal with his loss.
"The man asked Mr Ritchie about the prospect of donating a collection from his brother's funeral to Men's United and there was discussion between them that his money would be spent training staff for Men United."
The £793 collected at the man's funeral was later bolstered by a further £207 donation from the bereaved family delivered to Ritchie's home, the court heard.
In February a further £210 was raised for Men's United and passed onto Ritchie, whose address is listed in court papers as Pentland Place, Peterhead, to deposit. However, when co-founder Mr Garvick went to the bank he found there was just £3.02 in the Men United account.
"He contacted the accused who refused to speak to him face-to-face and instead sent him Facebook messages saying he had transferred the cash to himself via paypal and explained that he needed the money to fund a gambling addition," Ms Reid added.
"Mr Garvick ascertained that £9,792.78 was missing from the account."
Defence lawyer Iain Jane said his client has since suffered the breakdown of his marriage and received abuse and threats via social media, but was working to overcome his gambling problem.
Mr Jane added: "Since his arrest Mr Ritchie has been working with Gamblers Anonymous and I have two testimonial records provided by the organisation that are very high in praise in how he is dealing with the problem.
"He understands how serious the matter is and his position from the outset was that he would be pleading guilty at the first instance."
The court was assured Men United was a genuine support group and continues to offer support meetings for males in the area concerned about their mental health.
"The money that was donated was done on the basis it was for this group to become a charitable organisation," he added. "The money has been misused by Mr Ritchie but this is not a situation where they were pretending to be a charity. The group was constituted."
Sheriff Christine McCrossan ordered criminal justice social work reports to be provided, granted Ritchie bail and deferred sentencing until Monday, October 26.