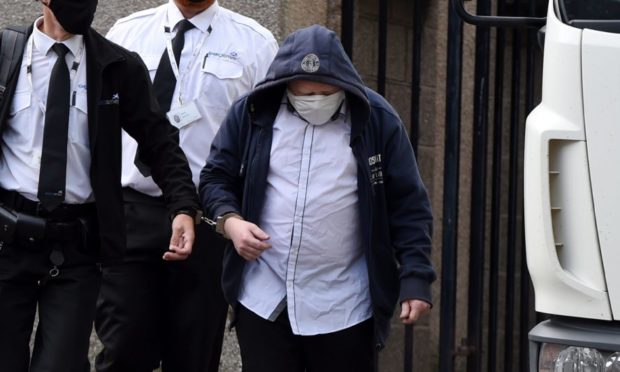 An Aberdeen man was caught with £7,000 of cannabis he was trying to sell – after calling police to tell them other drug dealers had beaten him up.
James Spink dialled 999 on November 10 last year after suffering a brutal attack at the hands of others "higher up" in the chain at his Bridge of Don home.
Having racked up debts from his own drug use, the 42-year-old had been selling to others to help settle his balance.
He admitted being involved in the supply of cannabis on November 10 at Aberdeen Sheriff Court yesterday.
Fiscal depute Felicity Merson said Spink's crimes had become clear when he confessed to officers over the phone.
"At around 1.10pm, police received a 999 call from him and a disturbance could be heard in the background," she said.
"He advised he had been assaulted due to unpaid drug debts."
Officers arrived at his Ellon Road flat soon after, arranging for him to be taken to hospital.
He had suffered head injuries and sustained several broken ribs.
Mrs Merson said: "Officers noted a strong smell of cannabis, and a number of glass jars with herbal substances."
During a search of the property, they recovered 461g (16oz) of cannabis with an estimated maximum street value of £7,300.
They also seized two sets of scales and a "tick list" which were used by Spink as he packaged up the illicit drugs for others.
The court heard he appeared in the dock last year for an "identical" charge relating to autumn 2018.
He was ordered to carry out 120 hours of unpaid work within six months, which his solicitor Katrina Clark said yesterday had been completed "promptly".
She said: "He accepts his role in the supply.
"Through his own use of cannabis he accumulated debts.
"A few days prior to the incident he told his suppliers he wished to stop.
"Despite his intentions to distance himself, further threats of violence were made which he knew were serious and real."
After he was released from hospital, Spink "fled" his home and quit his job in another bid to free himself from a life of crime.
Ms Clark explained that he had since found full-time employment, adding: "He has indicated remorse and regret at being embroiled in the drug scene and supply."
But Sheriff Graham Buchanan decided the only "appropriate" punishment for Spink was a prison sentence.
He said: "This is a serious matter, particularly because of the previous conviction for an identical charge.
"You were placed on that community payback order in April 2019 and you had to complete 120 hours of unpaid work within six months.
"Of course, the problem for you today is that you did not really learn the lesson of that previous conviction.
"Very shortly after the time that you must have completed those hours, you proceeded to commit another offence of the same kind.
"This is not a matter where we are just dealing with a small amount of drugs."
Spink, of Lumsden Court in Huntly, was sentenced to 14 months behind bars.