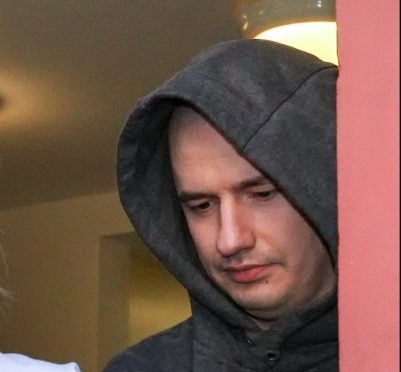 An Inverness man who told police he was "addicted" to firearms has been given Scotland's first standalone serious crime prevention order.
David Collins has a string of convictions involving weapons, and was previously jailed for threatening to shoot his colleagues after they teased him about the cache of firearms he kept.
The 43-year-old has previously been recalled to jail for breaching his parole and a supervised release order.
Now, in a Scottish first, the Crown Office has secured a standalone serious crime prevention order (SCPO) which allows for "intensive monitoring" to prevent further reoffending.
The orders have, until now, only been issued at the time of sentencing but the Crown Office made the case at Inverness Sheriff Court on Wednesday that Collins' movements should be restricted to stop him returning to serious crime.
Hopefully the restrictions placed on him will give some peace of mind to the community."

Jennifer Harrower, procurator fiscal for specialist casework
Sheriff Sara Matheson granted the three-year-old order which means Collins must attend counselling and report frequently to a police station.
He is also banned from having any firearms and has had his access to phones, computers and other communication devices limited.
Procurator fiscal for specialist casework Jennifer Harrower said: "David Collins' actions have caused considerable fear and alarm over the years. Hopefully the restrictions placed on him will give some peace of mind to the community.
"Collins has struggled in the past to curb his offending; he has multiple convictions for firearms offences and has previously breached parole. The purpose of the order is to help him, imposing restrictions that will make it harder for him to get involved with firearms.
"This order is the first of its kind in Scotland – it has been pursued and granted as a standalone SCPO, separate from the conviction process. It shows prosecutors will use all measures at our disposal to disrupt criminal activity."
At the High Court in Edinburgh in 2005, Collins was jailed for 10 years after he threatened to shoot former colleagues because they whistled The Addams Family theme tune when he passed.
He had admitted possessing firearms with intent, causing his mother and brothers to believe he may harm them. His family also believed police and bus drivers were also a target.
In 2016, he was jailed for 11 years for having a stash of weapons and ammunition – including a Makarov 9mm pistol, two magazines with eight 9mm cartridges containing full metal jacketed bullets, a silencer, telescopic sights and air rifles and air pistols, a deactivated .38 Webley revolver and flare pistol; and five containers of .22 air weapon ammunition.
Collins – who has the knowledge to reactive weapons – was caught after a cargo supervisor at East Midlands Airport carried out an x-ray examination of a package and found the pistol and bullets.
In 2018, he was sent back to jail after officers found him carrying a hacksaw black in his rucksack.
What is a serious crime prevention order (SCPO)?
SCPOs are civil court orders designed to help those involved in serious crime from reoffending.
The court can order measures to be put in place which stop an individual from participating in activity that can lead them back into a criminal lifestyle.
In order for the court to grant a SCPO, the Crown must prove both that the person involved has been involved in serious crime and that the order would protect the public by preventing, restricting or disrupting their involvement in serious crime in Scotland.