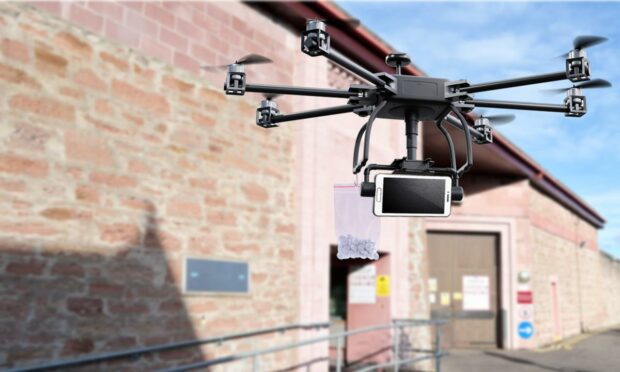 Police are hunting criminals who used a drone to try to smuggle drugs and a mobile phone into HMP Inverness.
Staff at the Highland jail recovered the drone, along with its illegal payload, and cops are now hunting for the person or persons responsible.
A recent Freedom of Information (FOI) request revealed a string of similar stunts foiled across the country, with one of the most recent incidents happening at HMP Inverness on September 15 2021.
'No arrests have been made in relation to the recovery'
The information provided states a drone was recovered along with contents including drugs and "personal communication device equipment".
A police spokesman said: "We were made aware of a drone with a quantity of tablets and a mobile phone found within HMP Inverness around 12.30am on Wednesday, September 15, 2021.
"Inquiries were carried out but no arrests have been made in relation to the recovery."
Prisons utilising ' robust security measures'
A spokeswoman for the Scottish Prison Service (SPS) said she was unable to comment on the specific incident due to the ongoing police investigation.
However, she added: "The SPS are aware that individuals will use various methods in an attempt to introduce contraband to our prisons.
"We deploy a range of robust security measures to prevent this and work closely with Police Scotland to investigate and identify any perpetrators."
According to the FOI response, HMP Inverness was just one of four prisons at which similar incident occurred in 2021.
Drones with similar drug and mobile phone packages were also recovered at HMP Edinburgh, HMP Addiewell and HMP Barlinnie.
In 2020, one such incident was recorded, when a device carrying mobile phone equipment was found at HMPYOI Polmont.
In 2019, drones were discovered on two occasions, at HMP Greenock and HMP Barlinnie, however no contents were recovered.
A drone carrying drugs was recovered at HMP Barlinnie in 2018, as was a drone but no contents at HMP Perth.
For all the latest court cases in Aberdeen, as well as the latest crime and breaking incidents, join our new Facebook group HERE.