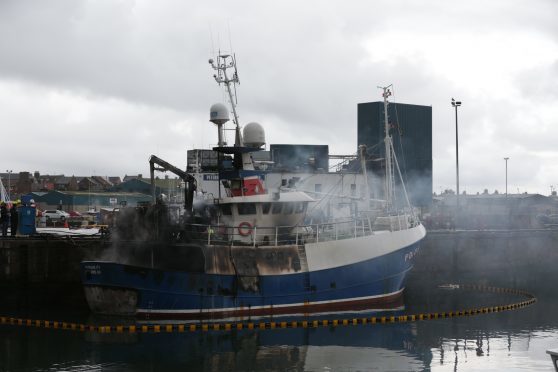 A north-east harbour's safety measures will be reviewed after a trawler was destroyed in a late-night blaze.
A fire broke out on the Tranquility while it was docked in Peterhead in the early hours of Friday morning.
The incident has left skipper Scott Milne counting the cost of the damage, while the seven men he employs now face up to nine months away from sea.
Last night, Peterhead Port Authority chief executive John Wallace – who has been working with police and firefighters in the wake of the blaze – said the incident would be reviewed by the harbour to explore whether lessons could be learned.
He added that the port was already patrolled 24-hours a day by security services.
Mr Wallace said: "Whenever you have an incident, no matter how good your CCTV and safety is, you need to review it.
"We review health and safety monthly and we are on top of this. This incident will certainly force us to go back and have a look at what happened.
"We have two things to do – as much as possible we want to keep the port open for the people of Peterhead to visit, that's part of their heritage.
"But at the same time we're well aware these are significant investments that the oil and fishing people have in their property and we need to protect that as well.
"With that in mind, we need to strike the right balance and look at the root cause."
Skipper Mr Milne has revealed that the fire could cost him up to £2.5million if he is unable to repair the Tranquility.
An insurance assessor will now inspect the vessel to determine the extent of the damage.
"Nothing like this has ever happened to me before," Mr Milne added.
A 45-year-old man appeared in Peterhead Sheriff Court on Monday charged with willful fire raising.
Roman Repec made no plea or declaration during the private hearing.
He was remanded in custody and will next appear in court in December.