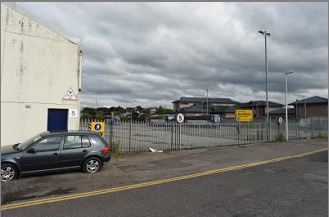 A proposed site for Inverness's new justice centre has been earmarked.
The Press and Journal can reveal that a pre-planning application for a site near the city's Burnett Road police station has been submitted to Highland Council.
The new plans are seen as a major step towards freeing up the city's castle, currently the home of the courts, for tourism purposes.
A public consultation event is provisionally scheduled for next month (AUG) to gauge feedback about the proposal for the former Stagecoach depot in Burnett Road – just yards from a previously preferred site that was dramatically dropped a few months ago.
The proposed justice complex would feature new courts and offices to replace existing facilities at Inverness Castle.
According to documents sent to councillors, drawn up by Edinburgh-based property consultants GVA James Barr, the proposal is for "demolition of existing buildings, development of new Inverness justice centre comprising courts, offices, cafe and ancillary accommodation, associated infrastructure, access and works."
The consultation event is scheduled for the city's Spectrum Centre between 2-7pm on August 30.
In May, the Scottish Courts and Tribunals Service (SCTS) withdrew from a deal to buy its initial preferred site, a former bakery opposite Burnett Road police station.
Certain conditions could not be met by the deal's closing date.
Sources close to the deal had suggested there was concern that any "underpass" arrangement would pose a security issue, potentially being shared by witnesses, accused and jurors.
Speaking last night, local SNP MP Drew Hendry said: "I remain confident that the justice centre will go ahead and this sounds like a positive move towards getting the facility built.
"Everybody is keen to see that happen so the castle can be freed up for more productive use for the city and for tourism."
Local councillor Donnie Kerr said: "At this stage it's a pre-application.
"Once it appears at the next south planning committee list we will maybe make our observations about the choice of site and see what we would wish to do there.
"It's early days. There are no drawings or any detailed information to go by."