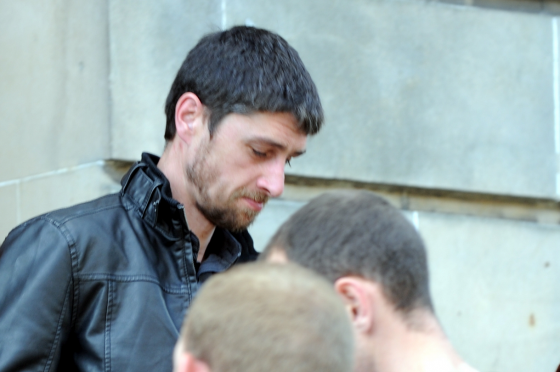 A drink driver who sparked a manhunt after abandoning his friend in a crashed car has been banned from the roads.
Michael Andrews had a "good drink" in him when he got behind the wheel to take pal Kevin Smith home after he fell into Lossiemouth harbour.
But he crashed into the back of another car and fled the scene, leaving Mr Smith trapped.
Police dogs and infared cameras were used to try and track the 37-year-old down, who later told police he had woken up concussed in a field.
Yesterday, Andrews narrowly avoided a jail sentence but was disqualified for two years.
Sheriff Olga Pasportnikov told him: "The offence is particularly unpleasant because you ran off without seeing how badly injured he was."
Andrews, of 8 Sellar Street, Burghead, previously admitted driving dangerously while under the influence of alcohol and appeared at Elgin Sheriff Court for sentencing.
He also admitted running away from the scene of the crash and failing to report it in an attempt to defeat justice.
The court heard Andrews and Mr Smith had been drinking from about 6pm on May 29 last year.
The duo met in an Elgin bar before going to Mr Smith's house, where they continued to drink while listening to music.
They then travelled to Lossiemouth, where Mr Smith fell into the harbour. The pair were driving back to Elgin for dry clothes when their car hit the back of another car on the A941 near the Muirton junction.
Mrs Wylie said: "The force of the collision caused the cars to spin several times before coming to rest on the road.
"The accused made off from the scene but had left his mobile phone plugged into the dashboard. Police dogs and infared cameras were used to search for him because they were concerned he may have been injured."
Firefighters cut Mr Smith free from the wreckage of the car and he was taken to Dr Gray's Hospital. He was given painkillers, while the driver of the other vehicle – Mehmet Dag – had five stitches for a cut on a finger.
In the meantime, Andrews walked back to Elgin and ordered a taxi to Burghead at about 3.30am, and was traced by police later that day.
Defence solicitor Stephen Carty admitted his client had "panicked" but had returned to the scene after the emergency services had left.
Mr Carty said: "He should have gone back to Elgin and gone to the police office. It was poor decision making."
Sheriff Pasportnikov said she would "stop short" of sending Andrews to prison but sentenced him to 240 hours of unpaid work, a two-year driving ban. She ordered him to pay £500 compensation to Mr Dag.