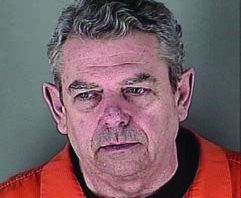 A conman who posed as a clan chieftain to trick investors in a US-based £1.6million fraud has been jailed for four years.
Colin Chisholm, described as "living in a fantasy world" by genuine clan leaders, used his fake persona to persuade investors to put money in a bogus satellite TV network.
He falsely claimed that he and his wife were "Lord and Lady Chisholm".
The crook persuaded 38 investors to plough a total of £1.6million into the scheme but then stole the money to support his lavish lifestyle.
Duncan Chisholm, a past president of the Clan Chisholm Society and kilt-maker in Inverness, said: "I knew he used to work in New York for a television company. I met him in New York. He joined as a member of the Clan Chisholm Society about 20 years ago.
"He called himself and his wife Lord and Lady Chisholm, it was completely made up. Some time ago one of the directors of the Clan Chisholm Society wrote to him and said not to say what he was saying because it was totally untrue. He has never held any office in the clan society. The family were totally horrified when they heard about it."
Chisholm, 65, owned a £1million luxury yacht and was living with his wife "Lady" Andrea in a lakeside mansion.
He also owned a beach-side home in Florida and had £2million in bank accounts.
He pleaded guilty to mail fraud in January and, earlier this week, US District Judge John Tunheim jailed him for four years at a court in Minnesota.
He was also ordered to repay the money to his victims.
The court heard that since 2004, Chisholm used The Caribbean Television Network to solicit funds from investors. Throughout the scheme, Chisholm told investors that the company was on the verge of securing up to £80million in funding to begin broadcasting, and that their investment would be used as interim financing.
Chisholm also claimed to be a Scottish Chieftain of the Clan Chisholm and claimed to have close personal ties to members of the Bush family.
Mike Rothman, of the Minnesota Department of Commerce fraud bureau, said: "Colin Chisholm ripped off people with a long trail of lies about himself and his fraudulent investments."
Chisholm, who called himself Colin Chisholm III of Struy and insisted on being addressed as "Lord", was previously sentenced to 21 months in prison in 2015 over a welfare benefits fraud.