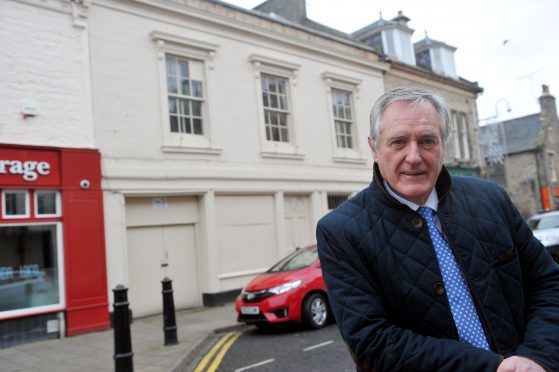 Heritage chiefs have come under fire for killing off a project to turn a long-empty town centre building into flats to attract workers to Moray.
The council had granted permission for developers Action Elgin Ltd to demolish 184-188 High Street to make way for retail and housing.
However, despite assurances the Victorian stonework would be numbered brick-by-brick and painstakingly restored as a facade to the new building, Historic Environment Scotland (HES) objected.
Yesterday, the Scottish Government sided with HES and threw out the plans for a shop and 15 flats after "carefully considering" representations.
Last night Sandy Adam, a director for Action Elgin, insisted the decision meant the development was dead – even though HES said it remained willing to work on revised proposals.
Now fears have been raised the former shop, which has lain empty since 2008, could crumble further into ruin.
John Cowe, chairman of Moray Council's economic development committee, said: "I'm astonished, and quite frankly, disgusted.
"That building is an absolute eye-sore on the High Street. The historic facade was always going to be retained, it would look exactly the same from the street.
"The flats would have been high-quality, which would have made a huge difference in attracting professionals, whether it was for the NHS, council or wherever, to Elgin.
"Nobody is going to want to touch that building with a barge pole now after this."
HES objected to the demolition because the unusual stone shop front made the building a "critical heritage site" in the town.
Fears were also raised about the impact on Elgin's medieval "herringbone" town centre with narrow closes between buildings.
Mr Adam, who is also executive chairman of Springfield Properties, said: "Elgin High Street should be the beating heart of Moray but like many other places it is struggling economically.
"We were asked if we could help. Although High Street regeneration projects are not something we have experience of, developing this property to deliver affordable homes and workplaces seemed worthwhile and we took up the challenge.
"Unfortunately, the result of this appeal means we will not be able to take this project forward. For us, demolition followed by the rebuilding of a replacement facade was the only economically viable option."
The building has stood on the High Street since the early 19th Century and was previously a tobacconist and a tackle shop.
Gill Neill, manager of Elgin's business improvement district, believes extensive investment is required in some town centre buildings to bring them back into use.
She said: "This property has sat derelict for several years and is now uninhabitable. We supported saving it to reintroduce it to the centre.
"We firmly believed it was better to support a company who are prepared to invest significantly rather than leaving it to decay further and ultimately collapse."
Elgin City South councillor John Divers added: "It's unbelievable. When Wetherspoon moved in they demolished the rear of the building and kept the front – I don't think there's any difference here.
"Decisions like this just hold back progress. We're trying our best to attract people into Elgin and use our buildings as best as we can."
Last night, HES insisted it remained open to working with the council or developers on a revised project.
A spokeswoman said: "We believe every effort should be made to retain and reuse listed buildings, and note with interest the ministers' decision to refuse permission in this case."