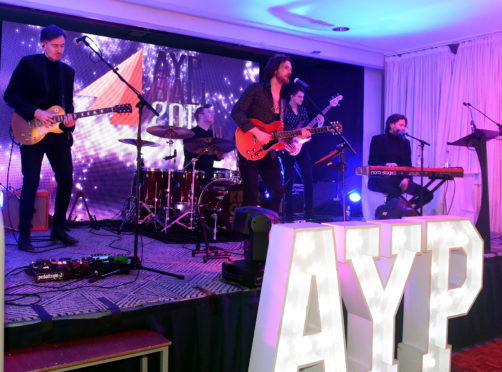 The sponsors of the Aberdeen Young Professionals Ball believe the event's success should encourage energy firms to continue graduate training schemes.
Hundreds of young professionals gathered for the glitzy celebration at Aberdeen's Hilton Treetops hotel on Friday night.
The bash highlighted the work going on to provide the offshore sector, and its surrounding industries, with fresh blood by nurturing and developing recent graduates.
But as well as handing out awards, it raised £1,500 for the Maggie's cancer charity and Mental Health Aberdeen through a raffle of luxury items.
Caroline Diack, the communications advisor for the main sponsor, Peterson, afterwards spoke of her hopes for the event.
She said: "We wanted to recognise the importance of continuing to invest in young people.
"The last couple of years have been difficult for those trying to carve out careers in the north-east, and that's why we support events like this.
"The next generation of talent will be the ones helping to regrow the area's economy but some firms feel that an easy way of tightening their belt is to reduce investment in training programmes."
She added that Peterson, a logistics service based at Waterloo Quay, had expanded its graduate scheme by 20% over the last year.
Katie Sime and her husband Neil run the Blackford Craft Distillery and also provided sponsorship.
Mrs Sime, 38, explained that as young professionals themselves they immediately saw the value in supporting the gathering.
She said: "We have been trading for a year in June, and wanted to help showcase just how many young people are involved in business in Aberdeen at the moment.
"It is great to hear about how people are getting on, and an event like the Aberdeen Young Professionals Ball shows there is a lot of vitality here."
Mentee of the year award went to 28-year-old Emma Honeyman, who works at Team Energy Resources, part of the Acteon group.
Stacy Edghill, who works for the Wired digital marketing agency, won mentor of the year.
The event was organised by DC Thomson and Press and Journal deputy editor David Knight gave a stirring speech on the importance of nurturing young members of staff to any workplace.
After the awards were presented a live band took to the stage and the dancefloor filled as revellers made the most of the occasion.
Ross Young, from Aberdeen Young Professionals, urged companies interested in developing graduate training schemes to get in contact with the group.
He said: "We have shown how successful taking young budding workers and pairing them with seasoned people can be."