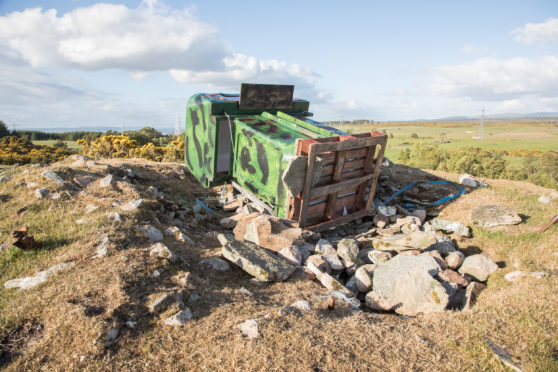 It is a site rich with thousands of years of history – but it has been given a very unwelcome modern-day addition.
Police are investigating after what appears to be a bird watching hide was installed on top of an ancient chambered cairn.
The hide was placed in the cist of a cairn at Carn Glas which dates back to the Neolithic period and with two others forms what is believed to be a burial complex.
The cairns are an example of the so-called Orkney-Cromarty Group – the largest and most varied type of cairn.
Carm Glas is a scheduled monument meaning it is considered a "nationally important" archaeological site and protected by law from unauthorised change.
The hide appears to be constructed from a Truckman hard top which is usually placed on the back of a pick-up truck.
The discovery of the structure was made at the end of last week and appeared on social media.
In a post, the North of Scotland Archaeological Society (Nosas) wrote: "We were very sorry to learn today that one of the cists at Carn Glas long cairn, Achvraid, Essich, south of Inverness has been deliberately damaged.
"Apparently turf has been cut and stones have been removed to create a makeshift structure. This is a scheduled monument and the police, HES and Highland Council are aware. Let's hope an example can be made of the perpetrators."
Police confirmed that they had been contacted over the matter and inquiries are ongoing.
A spokesman for Historic Environment Scotland said: "We are aware a temporary structure has been erected at Carn Glas without Scheduled Monument Consent.
"We are currently undertaking actions in line with our Enforcement Policy to ensure the structure is removed."
Among the groups that commented on the issue was the Caithness Broch Project which wrote: "Top tip: when erecting a hide, don't do it over a 3,000-year-old burial cairn."
Director of the Caithness Broch Project Kenneth McElroy said when he found out about he felt "shock and disbelief."
He said: "Disbelief is a good word here because I struggle to understand how someone couldn't have known that this was a cairn.
"The damage has been done and probably someone should be punished but I think that education here would also help."
He added: "The lack of awareness about how meaningful these sites are – the heritage and archaeology are incredibly important to Scotland – just makes me feel sad."