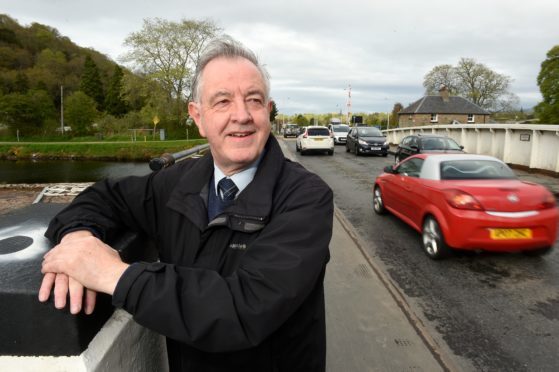 Councillors and residents have hit out at "nightmare" proposals to build a block of modern apartments in a historic area of Inverness.
The plans have been submitted to Highland Council to create eight serviced flats between C-listed and B-listed buildings given protection by Historic Environment Scotland and dating back to the late 1880s.
The rest of the street also contains traditional Victorian buildings which overlooks the Northern Meeting Park.
Councillors slammed the proposals yesterday and called for planners to consider the architecture in the area.
Councillor Graham Ross said: "Given the character of Ardross Street looking out at an area of historic and conservation value – it is a nightmare.
"This is totally uninspiring but I'll give them credit for trying to blend in the colour with the other buildings.
"I have seen some wonderful new buildings in amongst older ones but this is not an example of that – it is totally uninspired.
"To me, it looks like it was done on the back of a fag packet rather than something inspirational."
Despite acknowledging the need for new homes in the city, his fellow ward member, Councillor Alex Graham, said: "New housing is much-needed and very welcome in the city.
"However, the proposed new building, which has a block-like frontage, does not fit in at all well with its neighbours in the very attractive conservation area.
"The historic Northern Meeting Park is directly opposite and the cathedral is nearby. My preference would be for a development that is much more in sympathy with the area."
Mr Graham added: "Parking is also very scarce in the inner areas, and the proposal does not appear to me to provide enough parking for the residents who will live there."
Residents have already met informally and agreed to do whatever they can to oppose the application.
Graeme Paterson who was at the meeting said: "All the residents that I talked to are against it.
"They claim it will enhance the town but we think it will only enhance someone's back pocket."
He added: "Inverness should not set a negative precedent and we all want people to learn from lessons particularly as Inverness tries to undo some of the mistakes of the past."
Director of HRI Architecture Andrew Bruce defended what he called "carefully designed contemporary architecture."
He said: "This design has been carefully developed over several months, involving a number of design development stages and being submitted to and discussed in detail with the Inverness Design Review Panel and incorporating their comments, prior to submission for planning consent.
He added that "we regret that any councillors or indeed others consider the design inappropriate to its context" adding that in time it will be seen as "entirely in keeping with both the older buildings on Ardross Street."