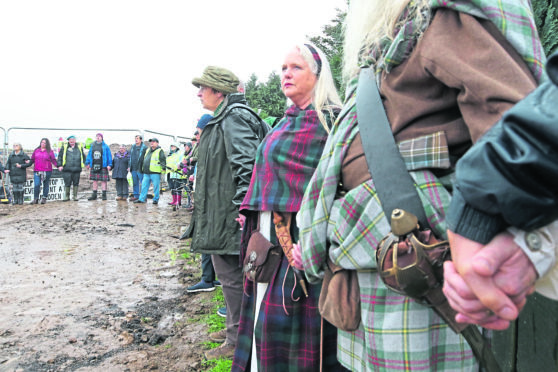 Protesters gathered at the site of a controversial housing development near Culloden Battlefield at the weekend in their latest attempt to halt the project.
Work on the 16 homes at Viewhill began last month.
But campaign group Stop Development at Culloden (GSDC) are not prepared to give up on their five-year battle against the development, and gathered on Saturday to once again make their feelings known.
---
>> Keep up to date with the latest news with The P&J newsletter
---
About 100 protesters gathered on Saturday, marching from the car park of the visitor centre to the development site before making a human chain to emphasise their will to protect the historic site.
George Kempik, from the group said: "This is a final attempt to awaken people to what is actually been happening here for the last five years.
"This has been the best turnout we have ever had and it is a bit ironic it is happening today when we look around and they have actually started building the houses.
Protesters gather 72,000 signatures against development near Culloden
"We are sending out a message to the property developer that we are still watching and the same applies to other developers who are planning on building houses inside this perimeter.
"This really is an injustice. It is a fairly large scale development of 16 houses and to even describe it as having no different impact on the battlefield than the sheds that stood before is completely wrong."
The development has been the scene of much controversy over the years, and was approved upon appeal by the Scottish Government.
Opponents gathered 100,000 signatures from around the world for their petition calling for a rethink on the proposals.
Mr Kempik added: "I am really gutted. I am very angry and I am also sad and in disbelief that we have been put in the position, ordinary people have been put in the position, of having to do what we are doing and we shouldn't need to do this."
Last night, a spokeswoman for Historic Environment Scotland, which protects Scotland's historical sites, stressed the Viewfield development would not have a "significant impact" on the battlefield or the underlying archaeology.
She said: "Culloden was added to our inventory of Historic Battlefields in 2011.
"The inventory boundary defines the area in which the main events of the battle are considered to have taken place and where associated physical remains and archaeological evidence occur or may be expected.
"Inclusion on the inventory does not preclude development, rather it means that planning authorities, in this case Highland Council, have to consider any proposals for development carefully, and determine whether development will significantly detract from the importance of the battle site.
"Planning permission was granted for residential development at Viewhill in 2014, by an independent reporter after the initial decision by The Highland Council was appealed.
"In the opinion of our predecessor body, Historic Scotland, the Viewhill development was considered not to have a significant impact upon either the battlefield landscape or the underlying archaeology, as the area was on a previously developed site and had already seen modern development."