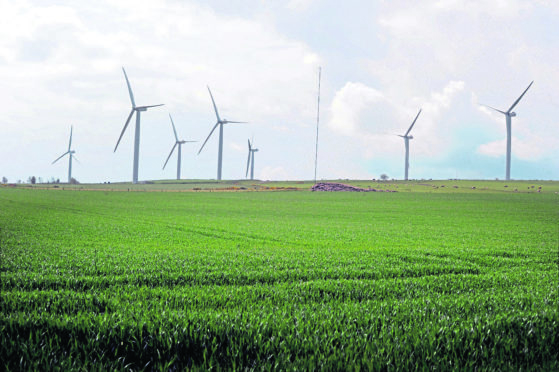 Windfarm operators in the north-east have received a million pounds since the start of the year to turn-off their turbines in high winds.
Tullo near Laurencekirk, Mid Hill south west of Aberdeen and Clashindarroch near Huntly all received hundreds of thousands of pounds in so-called "constrainst payments".
In gale force conditions, the National Grid is unable to cope with the extra energy turbines produce and companies receive "constraint payments" to shut down.
Almost £5 million was paid to energy firms, almost all based in Scotland, for switching off turbines on October 8 alone as the country experienced high winds.
---
>> Keep up to date with the latest news with The P&J newsletter
---
More than 60 farms were compensated after electricity supply outstripped demand.
The high compensation figures, first reported in The Sunday Times, outstrip the previous single-day record of £3 million, and have sparked criticism of the Scottish Government's green energy policy.
John Constable is director of the London-based Renewable Energy Foundation (REF), a charity that is critical of subsidies for wind power.
He said: "The high costs of wind farm constraints result from the Scottish government's unbalanced enthusiasm for wind power.
"In a striking example of democratic deficit, these costs are paid for predominantly by English and Welsh consumers who have no votes in Holyrood.
"As history shows, 'taxation without representation' is politically unstable. This simply has to stop."
An all-time monthly record of £28.4 million was set in September, £5 million more than the previous record of £23.2 million in October 2017.
And the REF has also said that 2018 is on track to break the annual record of £108 million, set last year, with payouts already at £101.5 million by October 19.
Jenny Hogan, deputy chief executive of Scottish Renewables, said: "Constraint payments are a normal part of the overall efficient management of our electricity system, given the limitations of the UK's aging energy infrastructure.
"Delivering a modern electricity network capable of getting power generated to customers must be a priority over the coming years and is the best way to minimise the cost of constraint payments to consumers."
A spokesman for the Scottish government, said: "Wind energy is proven and is now the cheapest means of generating electricity and plays a key part in helping deliver the steep reductions in carbon emissions that we so desperately need.
"Vital grid investment is now happening.
"The recently commissioned £1 billion Western Link between Scotland and Wales – with others to follow – is one project that will greatly reduce the need for these payments, as the future grid will allow for Scotland's renewable power to be fully utilised."