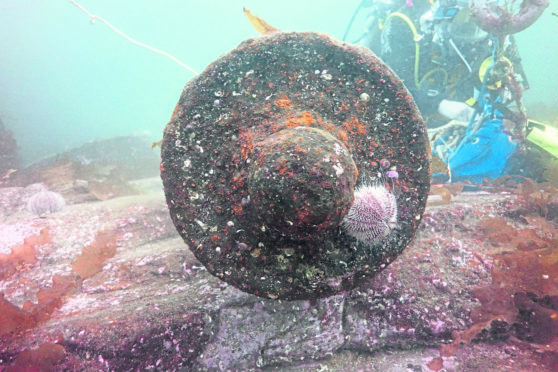 A Scottish heritage charity is seeking to preserve a historic shipwreck off the Shetland coast.
The 18th century vessel, believed to be a merchant ship of the Swedish East India company the Queen of Sweden, has remained on the seabed near Twageos Point for more than 250 years.
In an effort to understand the historical assets which remain beneath the shore, Historic Environment Scotland (HES) is urging the Scottish Government to help protect the site and its contents by making it a Historic Marine Protected Area.
---
>> Keep up to date with the latest news with The P&J newsletter
---
Philip Robertson, deputy head of designations at HES, said: "The sinking of the Queen of Sweden was a significant event in the history of the Shetland Isles, and the wreckage that remains is a marine heritage site of national importance that can greatly enhance our knowledge and understanding of the Swedish East India Company and its trading activity around Scotland's coasts during the 18th century.
"We believe that designating the site as a Historic MPA will promote its heritage value, and I'd like to encourage as many people as possible to take this opportunity to share their views about this important piece of our nation's priceless marine heritage."
The wrecked vessel departed on its journey from Gothenburg on January 9, 1745, heading for Cadiz for more supplies before departing for China.
However, a few days later, the vessel ran into trouble following the deterioration of the weather.
As it battled through poor visibility and sustained blizzard conditions, the ship struggled to maintain course, forcing the captain to seek safe haven in Lerwick.
With the safety of shore in sight, the vessel collided with a rock off the headland of Knab on February 12 1745, with all crew members luckily making it safety to shore.
The Queen of Sweden is arguably the best preserved remains of a merchant sailing vessel of the Swedish East India Company located in waters around Scotland.
The charity has now launched the first stage of public consultations through an online survey to gain public feedback on proposals to preserve the site.