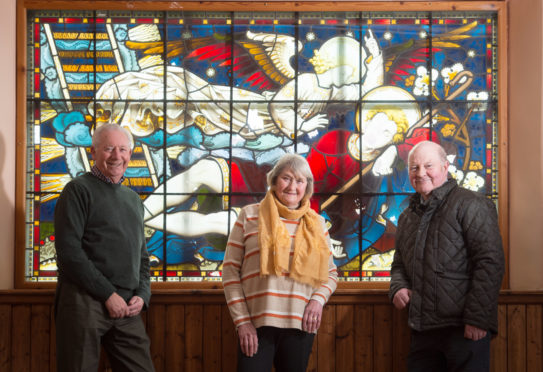 A badly-damaged stained glass window will be restored after spending more than 100 years in a church hall.
The colourful window depicting Jacob's Ladder from the Old Testament has been part of Forglen Hall since the building was constructed in 1924.
But the window was a solo pane for years until internal and external windows were installed to protect it and has suffered substantial damage.
The Alvah and Forglen Community Council teamed up with the caretakers Friends of Forglen Hall to research the history of the glass and fundraise for its restoration.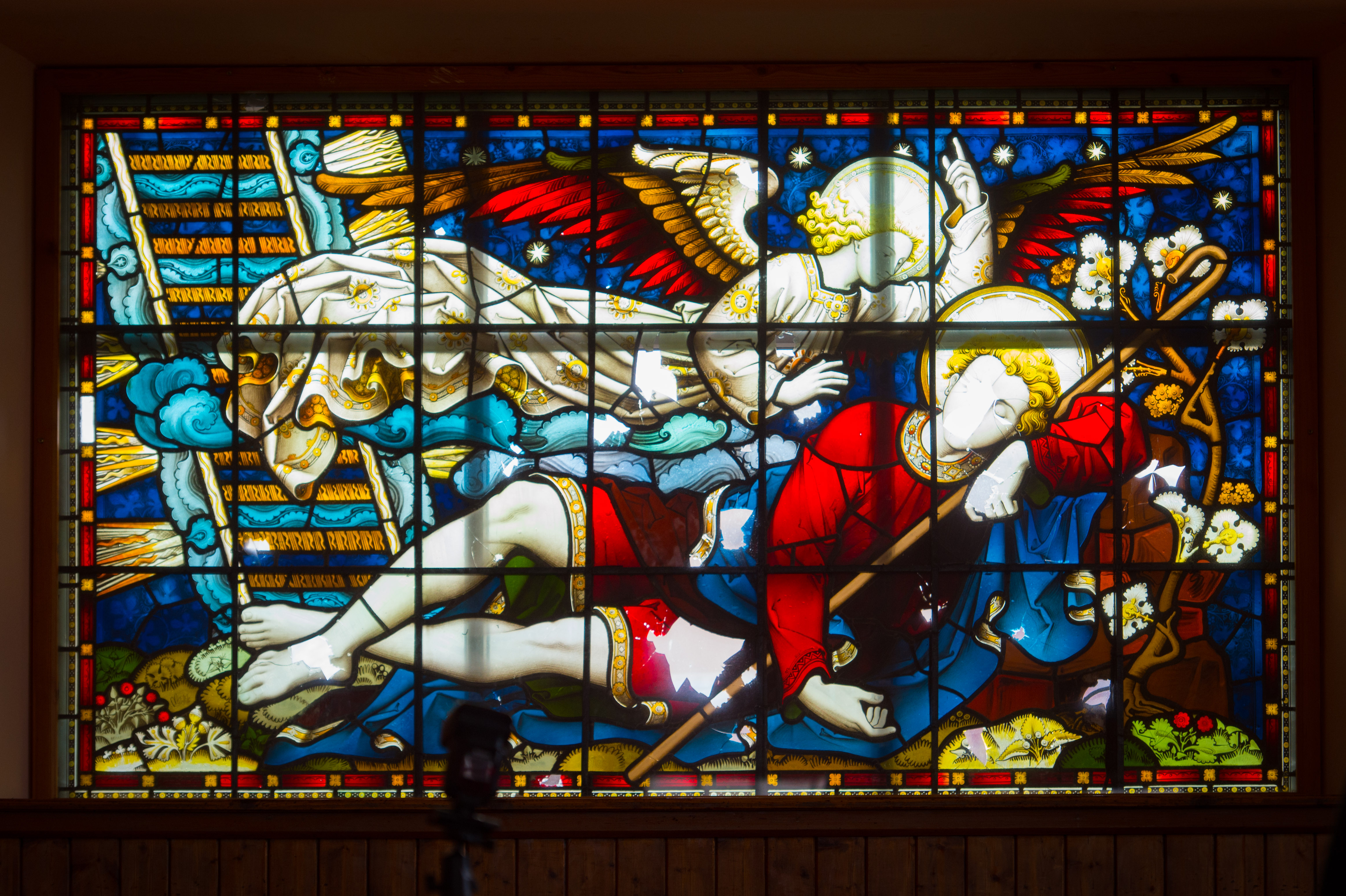 Now Historic Environment Scotland and Strath of Brydock Windfarm have awarded funding and the pane will be carefully restored by stained glass artist and conservator Linda Cannon at her studio in Glasgow.
The driving force behind the project was community council secretary Jim Bayne.
He said: "When the community council began using the big hall, we noticed what a wonderful window it is and realised it was badly damaged.
"We wanted to do something but none of us had experience with stained glass so it's taken over a year to get to this stage.
"To get funding we had to find the provenance of the window as no-one knew where it was from – people remembered parts such as it being from a big house but Forglen is full of big houses."
Through their research at Aberdeen University and the city library, the group discovered that it was created by the manufacturer Clayton and Bell and was originally installed at Ardmiddle House in Forglen in 1868.
And it emerged from a 1924 edition of the Press and Journal that it was donated to the hall when it opened.
Mr Bayne added: "For being 150-years-old its condition is probably not as bad as it could be."
Rhoda Burns, chairwoman of the Friends of Forglen Hall, is pleased the stunning window will be restored to its former glory.
She said: "We've worked together on other projects before such as the new kitchen and toilets, a defibrillator and a new notice board.
"The window has been a wonderful project resulting in us discovering more of the history of the area and about stained glass.
"We look forward to seeing it refurbished and hope it will bring more people to the hall, including tourists."
Caroline Clark, Historic Environment Scotland grants operations manager, said: "We are delighted to support Alvah and Forglen Community Council through our Historic Environment Support Fund.
"This will provide £15,000 of investment to support repairs to the window in Forglen Hall and new interpretation to highlight its history and significance."
The restoration is expected to be completed by September.
Stained glass to be restored by Linda Cannon
After extensive discussion between the two groups, Linda Cannon was chosen to take on the work.
As a professional stained glass artist and Icon accredited conservator, Mrs Cannon has worked on the panes for almost 40 years.
She has worked freelance since 1992 and will be taking Jacob's Dream down to her base in Glasgow.
Half of Mrs Cannon's work is new designs and half is historically important conservation, and this project provides the centre ground.
She said: "The face is missing – there's only half of the face left.
"I've been doing research on the faces that Clayton and Bell commonly used at that time as they tend to use stock faces and reuse subjects.
"I'm getting on quite well. When I repaint it then it will be in the same painting style and recognisable of the Clayton and Bell style.
"That's the major work – the face and the hands. I can get away with the foliage but the features have to be spot on."
Stained glass windows can be made using various techniques, and this one will be glass paint fired onto the pane.
Mrs Cannon added: "It's a very unusual window with unusual subject matter.
"I wouldn't have taken it on if I wasn't interested in it – it will be challenging and I look forward to that."
History of the Forglen Hall stained glass
The glass was originally created in the 19th Century for a large house in Forglen.
It was commission from Clayton and Bell, the world-famous designers of religious stained glass windows and installed at Ardmiddle House in 1868.
Entitled Jacob's Dream, it depicts Jason and his ladder as mentioned in the Old Testament.
Ardmiddle House was built in 1836 for John Adam, who originally named it Scobbath House.
It was then taken over by Alexander Rae, a naval surgeon who was Mr Adam's flax and seed merchant business partner as well as his brother-in-law.
The Rae's had a daughter, Barbara, who married John Duguid Milne and they significantly extended the house in 1868.
Ardmiddle remained in their family until it was bought by Robert Collier Caw, who is thought to have been a tea plantation owner in India, in 1924.
He auctioned off the contents of the house and donated the stained glass window to Forglen Hall, which was being built at the time.
Ardmiddle House itself was demolished in 1952.