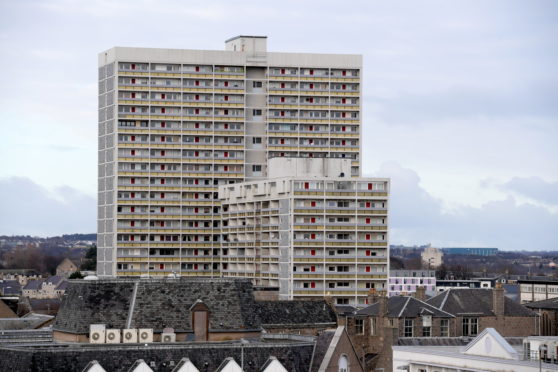 History chiefs have said the potential heritage status of "brutalist" blocks of flats in Aberdeen would not prevent residents from making changes to their homes.
Historic Environment Scotland (HES) is considering granting eight Granite City tower blocks category A listed status – the highest possible ranking.
Gilcomstoun Land, Porthill Court, Seamount Court, Marishcal Court, Virginia Court, Thistle Court, Hutcheon Court and Greig Court could be poised to take their place among the most valued buildings in the city.
HES staff welcomed residents to one of its public consultation where they endeavoured to answer their questions and set a few minds at rest.
Deputy head of designations, Dawn McDowell, said: "The really special things about Aberdeen is that there's more than one building we're looking to list in the area.
"We value their presence in the city and environment they create is very aspirational.
"Right now, we are at the point of consulting and we encourage everyone to come forward and tell us their views."
She added: "There has been an initial reaction that tenants cannot change anything, but this is not a 'stop the clock' situation. The building is not frozen in time.
"It's about looking at the future and long-term planning. Maybe in 10 years we can decide if they buildings would still need to be listed."
The report describes the 1960s-era high-rises as "brutalist multi-storey 'slab' blocks of flats".
Another document by HES also said: "If we decided to list the Aberdeen multi-storey flats, we would focus on how they look from the outside – not the inside of people's homes
"There is an assumption that listing will stop repairs and routine maintenance from being carried out.
"There would be no requirement for owners or tenants to seek permission to do general maintenance and like-for-like repairs – say for a new kitchen or bathroom.
"Listing doesn't mean the flats have to stay as they are forever."
Councillor Dell Henrickson was present at the consultation.
He added: "I think it's good there's consultation going on.
"It gives people who live in the tower blocks a chance to come down and speak to the people who are putting this proposal forward."
The next public consultation will be held on Monday, November 11, at the city's Catherine Street Community Centre, from 2-4pm and from 7.30-9pm.