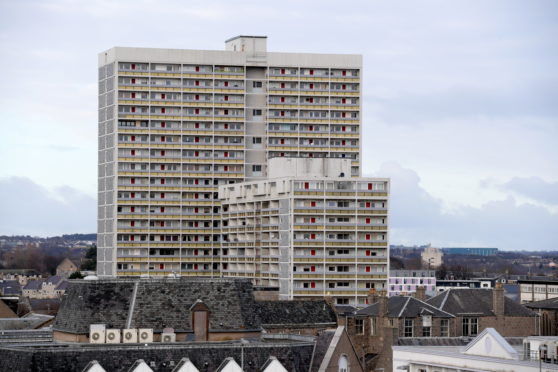 Aberdeen's top councillors have accused Historic Environment Scotland (HES) of already making their minds up about awarding protected status to eight city centre high rises – before the consultation has even ended.
Members of the local authority's capital programme committee unanimously agreed yesterday to instruct chief executive Angela Scott to write to the heritage body opposing the proposals formally.
A consultation on whether to award Gilcomstoun Land, Porthill Court, Seamount Court, Marishcal Court, Virginia Court, Thistle Court, Hutcheon Court and Greig Court Grade-A listed status ends tomorrow.
Council leaders are now pushing for residents of the blocks to get in touch with HES to make their views known.
Grade-A listed status would mean the 1960s buildings were deemed of equal cultural worth to Scotland as the likes of Marischal College, King's College and the Music Hall, as well as many of Aberdeenshire's best-loved castles.
The heritage authority held an information session with councillors last week, after two public consultation events in recent months.
Council co-leader Jenny Laing said: "It was quite clear after our meeting with HES on Friday that their minds have already been made up that they wish to push ahead with this.
"That is disappointing as this is still meant to be a time for people to feed in their views.
"So we would encourage residents in the blocks to take part in the consultation as HES said staff said they hadn't had much formal feedback.
"The cost of maintaining those buildings will come from the housing revenue account which is paid for by council rents."
Her fellow co-leader Douglas Lumsden added: "There is a potential for the council to face increased costs given the listed status of these buildings.
"I don't think that's right and it could have a knock on effect on tenants across the city.
"If we have to focus more spending on those blocks we would have less to spend on other properties."
But last night a Historic Environment Scotland spokeswoman committed to "carefully consider all the feedback" received before making a decision on what protection to give the high rises.
Concerns were also raised about the ongoing future of the eight buildings, given the looming recommendations likely to come from an inquiry into the Grenfell Tower fire.
More than 70 people were killed as the blaze ripped through the London high rise.
Mrs Laing said: "We are still awaiting the recommendations from the inquiry into Grenfell – and we could be asked to implement safety measures in the multi-storeys.
"An A-listing could have a detrimental impact on our ability to carry out that work."