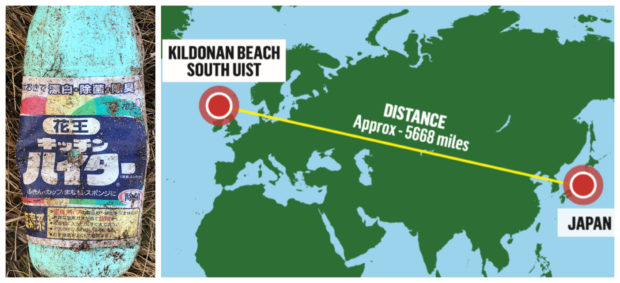 A bottle of bleach, manufactured in Japan, has washed up more than 5,500 miles away on a remote Scottish beach in the Western Isles.
The green container of "Kitchen Heiter", made by the Kao Corporation, was found under a layer of sand at Kildonan on South Uist this weekend by a photographer taking part in an extensive beach-clean of marine rubbish.
The product,  which is manufactured in factories all throughout Japan, still had its faded label attached despite its time in the water.
Naoko Mabon, a Japanese artist based in Aberdeen, said yesterday the label has not been used by the company for its bleach product for quite some time, so it is possible the plastic had been floating at sea for a lengthy period.
Although it is impossible to say for certain exactly where the plastic entered the marine ecosystem, Ms Mabon explained that it is illegal to take bleach on board an aircraft, so it is unlikely someone carried it in their luggage to the Western Isles – although it could have also entered the sea from a shipping route.
Ms Mabon said: "Since this product is forbidden to take outside of Japan by aeroplane, it is unlikely someone in the UK brought it back from Japan and threw it away.
"This product seems to be sold overseas as KAO Bleach, including Hong Kong, Malaysia, Singapore and Taiwan, but they have a different label from the original Japanese one, therefore it is possible that this bottle travelled all the way from the Japanese islands.
"Unfortunately, since this is probably the most common kitchen bleach in Japan, the original departure point is almost impossible to figure out."
A spokesman for the Scottish Wildlife Trust said the unusual find highlights the issues posed by ocean plastic.
He said: "Plastic pollution is a major threat to the health of Scotland's seas.
"Sadly, the litter we can see on our beaches is just the tip of the iceberg.
"Tackling this crisis will require behaviour change at all levels from manufacturers to consumers, to move from a single-use culture towards a circular economy, as well as innovative ideas to tackle the pollutants which are already in the sea."