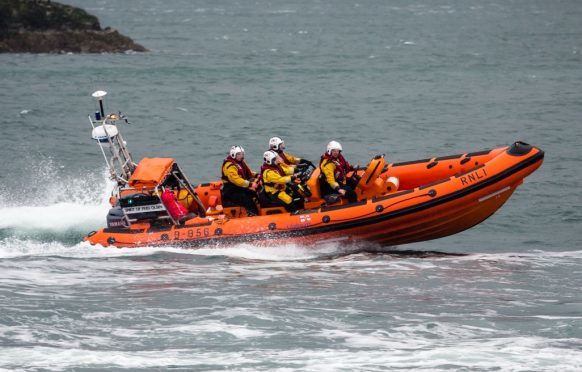 A Highland lifeboat responded to three calls in just eight hours on Tuesday.
As the temperature increased, so did the call outs for the Kyle RNLI crew.
The crew were first paged at 12.45pm after a rib with five people and a dog on board lost power between Kyle and Kyleakin and began drifting towards the rocks.
By the time the lifeboat had launched the boat had begun to drift towards the pontoons at Kyle and the RNLI crew brought it back under tow to the slipway.
They were back in action once again at 3.55pm when they were requested to assist the with with a woman who was in the remote Coral beach area of Plockton.
The crew arrived at the scene about 20 minutes later when they found the casualty in her 60s suffering from breathing difficulties.
The lifeboat took the casualty and one of the paramedics on board before returning to Kyle pontoons where an ambulance was waiting.
The pagers went off for the third time at 8.06pm, after two walkers got into difficulty walking on the Applecross peninsula.
The men were walking the coast from Toscaig to Kishorn and had gotten into difficulty due to the heat, with one of them also injuring his ankle.
The lifeboat arrived in Kishorn at 8.25pm, where the crew began a systematic search of the coastline heading west towards Toscaig. The casualties were located two miles west of Kishorn Port and were quickly taken on board the lifeboat to be assessed.
The casualties were found to be dehydrated and one had slightly injured his ankle, but were otherwise fit and well.
The crew transported the 2 men back to Kishorn where they had a car waiting.
A spokesman for the lifeboat crew said: 'This was an extremely busy afternoon for the crew, however this is what all of our volunteers train for, and we rescued eight people and one dog and had a good outcome on all three shouts which is the most important thing."