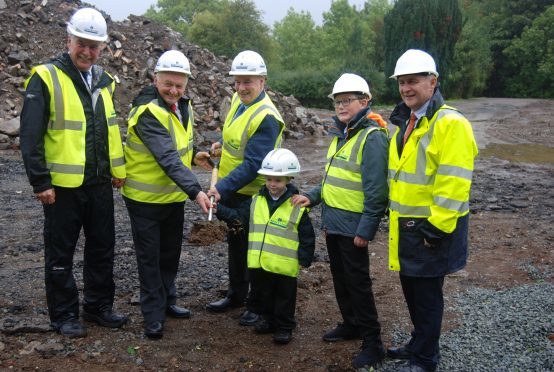 Gaelic medium pupils from Portree Primary School on Skye helped to cut the first turf for their new £8.7million Gaelic primary school yesterday.
And work has now begun on Portree Gaelic Primary School, which will be the Highland's third dedicated Gaelic school.
It is hoped the building will be open towards the end of next year.
Pupils Jaiden Jones and Steven Colven were joined at the turf-cutting ceremony by Skye Highland councillors Drew Millar and Hamish Fraser and Allan MacLeod, of contractors Robertson Construction.
Mr Millar, who is chairman of the council's education, children and adult services committee said: "The benefits of bilingual education cannot be argued against.
"Much research has been carried out on this form of education, which gives our children a great advantage in life, as it makes young people's brains more receptive to learning and problem solving.
"Children in Portree are very lucky to have this fantastic facility."
And he thanked Comann nam Pàrant for the effort they had put into the project over the years, which had enabled it to reach this stage.
Mr Fraser, who is chairman of the council's Gaelic implementation group said: "This is a major milestone for the development of the Gaelic language in the Highlands and the Gaelic heartland of Skye.
"Portree Gaelic Primary School is Highland's third dedicated Gaelic school in the region following the opening of Bun-sgoil Ghàidhlig Inbhir Nis in 2007 and Bun-Sgoil Ghàidhlig Loch Abar in 2015.
"I have absolutely no doubt that the new standalone school in Portree will prove a great success and nurture many more Gaelic speakers."
The contract is part of an overall capital investment programme of £14.8million in Portree, which included the formation of a new access road to the school and refurbishment of the former Elgin Hostel building to create a new pupil residence for Portree High.
The Scottish Government has contributed £4.75million towards the project.
Robertson Northern regional director Frank Reid said the company was proud to be working with the council on this project.