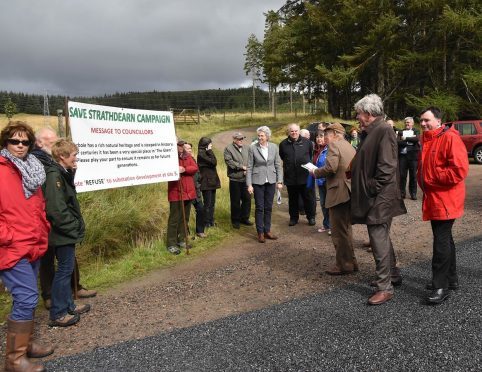 A community campaign group have made a formal complaint to Highland Council over a "seriously mishandled" site visit.
The Save Strathdearn Campaign has raised concerns about the handling of an application for a new electricity substation at Garbole, near Tomatin.
Two councillors – Donnie Kerr and Jim Crawford – have also complained to the local authority after members after the site visit earlier this month.
Councillors deferred making a decision and will consider the case again after another site visit.
The campaign's complaint sets out concern about the way the case has been handled at both the scoping phase and at the site visit.
Pat Wells of Save Strathdearn said they had offered advice about gaining access to the site which was "ignored" meaning the councillors were unable to reach where the substation would be located.
In her complain made on behalf of the campaign she added: "In addition an incorrect location of the site was given on more than one occasion and had to be corrected by a local resident.
"We maintain that this application has been seriously mishandled and failed to provide Councillors with adequate information to make a properly informed decision on a development which would have major implications for Garbole – the gateway to the upper Findhorn Valley.
We wish to know what actions will be taken to rectify the above issues which wasted significant time of councillors and the public and at significant financial cost to the council."
A Highland Council spokewoman confirmed that another complaint had been received and the authority will address it through its normal processes.
She added: "The council will respond direct to the complainants."