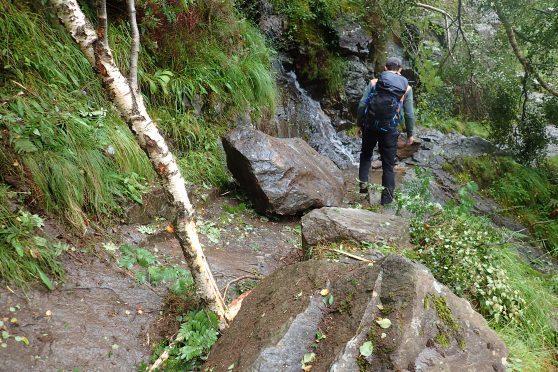 Repairs to a popular mountain path that was closed by a landslide last week will take at least a month to repair, according to the conservation charity that owns it.
Steall Gorge footpath in Glen Nevis, near Fort William in Lochaber, was closed for safety reasons after massive rocks fell onto the path from above overnight on September 13-14.
The landslide was caused by part of one of the buttresses on 2,290ft Meall Cumhann breaking away.
Local contractors are due to start work soon on making access safe again by removing debris from the path, including loose and unstable boulders from the area above the path, and stabilising damaged trees.
It is estimated that the work will cost the John Muir Trust, which owns the Steall Gorge area as well as the summit of Ben Nevis, as much as £30,000.
And the trust's Nevis land manager Alison Austin yesterday repeated her appeal for donations.
She said: "We're finalising the details of the repair project with local contractors and will start work soon.
"We have funds immediately available that have been donated by trust members and the public to our Wild Ways Path Fund.
"This is why we ask for support year round, so that we can react as quickly as possible to this kind of event and make sure we can maintain safe access to well-loved paths while making sure the environment is respected."
Anyone wishing to make a donation can do so at www.johnmuirtrust.org/wildways