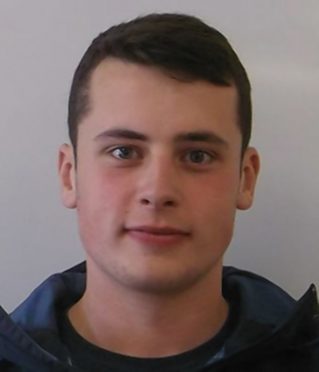 A Highland student has died after falling more than 150ft while climbing in a Lochaber hills.
Kieran Shaw's sister yesterday paid a touching tribute to him, saying that he "died doing what he loved".
His fellow students at the School of Adventure Studies at West Highland College UHI in Fort William were being offered counselling in the wake of the tragedy.
Mr Shaw, who also enjoyed mountain biking and snowboarding, had been climbing with another man when he fell near the Easy Gully on Aonach Mor in Lochaber at around 3.30pm on Sunday.
Lochaber Mountain Rescue Team and Coastguard helicopter Rescue 951 were called to the 4,006ft high mountain, which is two miles north-east of Ben Nevis.
The 21-year-old from Helensburgh, Argyll, was flown to the Belford Hospital in Fort William, where he received medical treatment, but died as a result of his injuries.
Mr Shaw's sister Hannah yesterday posted an online tribute to him.
She wrote: "Yesterday (Sunday), our world fell apart.
"I am sorry to tell you that my wonderful, inspiring handsome brother has been taken from us.
"It honestly feels like losing a part of yourself – and I still expect every second that he is about to walk through the front door.
"My brother was the bravest, kindest, most courageous person who died doing what he loved.
"Sleep tight beautiful angel, always in my heart.
"Forever loved and never forgotten…"
Her post received a flurry of responses from friends who were devastated by the news.
Garry Campbell, of Fort William, wrote: "His excitement and enthusiasm was contagious! Thoughts with all."
Jessica Leggatt, also of Fort William, posted: "He was such a lovely guy. All who went to uni with him are devastated. Thinking of you and your family."
And Rebecca Rew wrote: "Can't believe what I'm reading. I'm so sorry for your loss! Kieran was such a caring, fun and easy going guy. My thoughts are with you and your family."
West Highland College UHI also posted a tribute on a social networking site.
It said: "We are extremely saddened at the tragic death of one of our students, Kieran Shaw, whilst on a private climbing outing at the weekend on Ben Nevis.
"We have been in contact with the family to express our deepest sympathy and will do all we can to support them at this very difficult time.
"We will also be putting in place appropriate counselling for our other students and staff in the School of Adventure Studies."
John Stevenson, leader of Lochaber Mountain Rescue, said Mr Shaw's climbing partner had raised the alarm by mobile phone.
He said: "They were rock scrambling and not roped together. The lad fell about 50 metres (164 feet) in a very steep gully.
"He must have lost his hold or it slipped out and he has just gone straight down. He would have sustained very serious injuries falling where he did.
"It is very sad and our sympathies go out to his family."
A police spokesman said Mr Shaw had been airlifted off the mountain by a search and rescue helicopter from Inverness.
He said: "Following liaison with Lochaber Mountain Rescue Team and the HM Coastguard, Rescue Helicopter 951 attended and uplifted the 21 year-old male climber to the Belford Hospital, Fort William, where despite medical treatment he sadly succumbed to his injuries.
"He had been climbing in the area with a male companion.
"There are no suspicious circumstances and, as with all sudden deaths, a report will be submitted to the procurator fiscal."