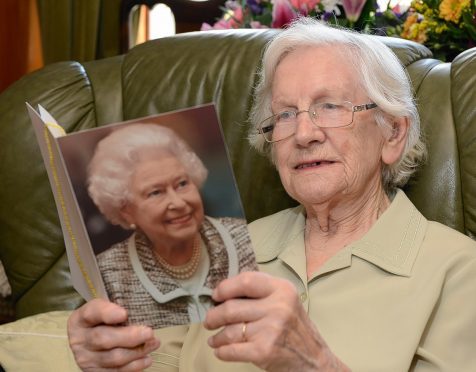 In a story of wartime tragedy that coloured the start of many lives at that time, she never met her father, who was killed in action.
But Gilberta Paterson also had happy memories as she celebrated her 100th birthday in style.
The great-grandmother was named after her late father Gilbert who died fighting with British forces in France during the Great War.
Speaking at her Highland home, where she was surrounded by relatives and friends to mark her special day, a youthful-looking Mrs Paterson recalled some of the memorable dramas – and great joys – of her long life.
Born and raised in Bo'ness, West Lothian, she lived for 50 years in Stenhousemuir near Falkirk before moving to the Highlands with her son Sandy when a new Post Office posting took them all to Lochaber.
Telecommunications links have proved a backbone to the family's 20th and 21st century history.
Mrs Paterson had met her future husband, Alexander, while he was working on telephones with the former "General Post Office."
She had loved her job as a telephone operator before becoming a mother.
She remembers all too clearly the image of WWII German war planes dropping their bombs in the direction of the Forth Rail Bridge as she watched in horror from the window of her telephone exchange, a few miles away down the River Forth.
The ex girl guide was a keen sportswoman and attributes her longevity to her participation in a wide range of sport – and regular fresh air.
She said she had no specific secret to offer for long life, but she always loved to keep fit and would enjoy long walks when she was more able.
Mrs Paterson has always loved flowers and recalls spending many happy hours looking after her garden.
The family loved the west coast, enjoying regular holidays on a relative's farm at Oban.
Amid the excitement of a special party to mark her birthday, she said: "I was always good at sports when I was at school and when I was younger was always out walking, taking in the fresh air.
"I can't believe I have reached 100, as time has just flown by.
"I've looked forward to spending time with the family."
More than 30 people joined Mrs Paterson at a party at her Inverlochy home to mark the occasion including nieces and cousins who travelled as far as the Borders and Inverness.
Her son Sandy, who previously ran the post office at Inverlochy and now lives in Inverness, was among those attending the celebration along with his partner Manjit, their daughter Harpreet and their granddaughters Caitlyn, 7, and three-year-old Paige.
He said: "People have come from all over, including Inverness and Falkirk, to mark the special occasion.
"It's been a great day and she's really enjoyed herself."
Relatives said a 100th birthday card from the Queen was the icing on the cake for Gilberta.
And her cake was donated for free by Inverness baker Harry Gow, once he learned what the occasion was.