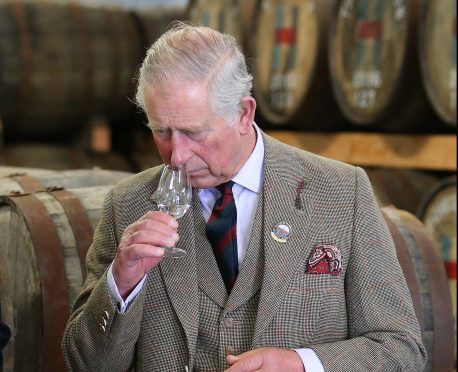 Prince Charles also visited a distillery yesterday, where he took great interest in the provenance of his drinking glass.
The prince asked why its £10 gin drinking glasses were made in Poland.
The Isle of Harris Distillery's gin is contained in distinctive bottles made in Yorkshire by specialist manufacturer Stolzle Glass Group.
"They couldn't do both?" asked the prince.
It was explained to the heir to the throne that they could not.
Polish-born Peter Kwasniewski, the Tarbert-based distillery's shop manager, said afterwards:"We tried really hard but they just couldn't manufacture both. The glasses from Poland are handmade and of a very high quality.
"We tried in the UK to find a handmade glass that could match the pattern of our bottles. But we couldn't find anybody. We also tried in France but with the same result. I knew of a manufacturer in southern Poland who were able to do it."
Prince Charles also sealed a cask of single malt whisky. Once it has matured it will be bottled and the 300 bottles sold with all the profits going to a charity of the prince's choice.
After taking several blows with a hammer to seal the cask, Charles joked "shall we take it out and do it again?"
"He also said he hoped to be around in 10 years time when the cask could be bottled," said production manager Kenny Maclean.
"He thought the whisky wonderfully complex and it's amazing how they all taste different."