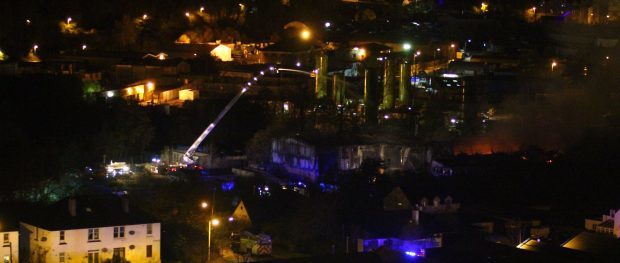 A team of 30 firefighters from as far afield as Dunbartonshire battled a huge fire at an Aban council depot yesterday.
The blaze could hit refuse and recycling collections in parts of Argyll and Bute.
Dozens of firefighters tackled the blaze at Mill Park fleet and maintenance depot on Soroba Road in Oban in the early hours yesterday.
Fire crews were called to the yard, where gas cylinders are kept, at 1.30am.
Local crews were joined by colleagues from as far as Lochgilphead, Inveraray, Tyndrum, Bridge of Orchy, Tarbert and Milngavie.
They used water jets to stop the fire spreading and to cool the acetylene cylinders as part of the containment operation.
Incident commander, station manager Lawson Elliot said: "Our crews have dealt with a significant fire.
"We had 30 firefighters tackling the blaze at its height, with two water jets and a water tower."
A spokesman for Argyll and Bute Council confirmed the blaze had extensively damaged its fleet and maintenance depot.
"Thankfully, no-one was injured," he said.
The council warned that the destruction at the depot, where bin lorries and other vehicles are kept, could impact on services.
A statement on the council website described the damage as "substantial."
The depot remained cordoned off in the interests of safety.
"This will obviously cause some disruption to our refuse and recycling collection service," the council said.
"We're putting contingency arrangements in place such as bringing vehicles in from other areas to keep disruption to a minimum."
Although close to a housing estate, no properties were evacuated.
The local authority spokesman said updated information about refuse and recycling arrangements would appear on its website.
Speaking last night, he said: "The site will be contained over the weekend until police and fire investigations can continue early next week.
"We're currently in the process of obtaining replacement keys for our bin lorries. These are likely to arrive on Monday, after which we will be able to update people on arrangements to collect the bins we were unable to collect today."