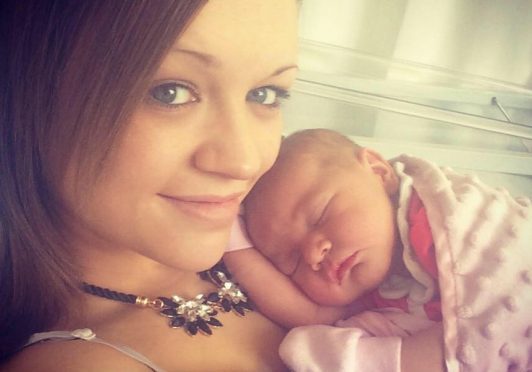 A Highland mum has spoken out about her "nightmare" ambulance journey after enduring a catalogue of problems when she gave birth to her baby daughter.
Eilidh McIntosh's daughter Skye ended up being delivered in Golspie – halfway between Wick and Inverness – after a desperate rush to the Highland capital went wrong.
The ambulance transferring her to Raigmore Hospital did not have enough water for the Caithness mum, had no incubator on board and had to pull over in a layby to change the gas and air cannister.
Hospital staff then had to go to a local shop to buy milk – and fed it to the baby from the lid as they had no bottles.
And Miss McIntosh said she was initially denied access to a toilet and shower.
NHS Highland has apologised and a major review is planned following the incident.
Health Secretary Shona Robison said the "standard of care in this case falls below what we would rightly expect".
It was the latest in a series of high-profile problems encountered because mothers from the far north have to make the 100-mile journey to Inverness.
Miss McIntosh, a 21-year-old from Thurso, was due to give birth at Caithness General Hospital in Wick on October 30 because there had been no problems with her first pregnancy with daughter Mya, who is now two-years old.
But she was then told she would have to be transferred to Raigmore Hospital in Inverness because of a risk of the bacterial infection streptococcus B.
The threshold for sending mothers to Raigmore was lowered last year after a baby girl died of the e.coli sepsis infection just 40 hours after being born at Caithness General.
Miss McIntosh was told to travel to Raigmore for the evening of November 1 to be induced – but her waters broke hours before she was due to travel.
By the time she had arrived in Wick she was having major contractions and said she was in "severe pain".
An air ambulance was urgently sought to transfer her to Raigmore – but the helicopter was diverted to a road accident.
Instead, Miss McIntosh found herself being strapped onto a stretcher and loaded into the back of a road ambulance, along with her partner Sid Davidson and a midwife.
She said: "I was worried I might end up having my baby in a lay-by or something like that."
By the time they were passing Dunbeath the initial supply of gas and air had been exhausted and the ambulance had to pull over to change the canister.
Eventually, a few miles from of Golspie, the midwife made the call to divert to the Lawson Memorial Hospital, where Skye was born 1t 12.36pm, just five minutes after arriving.
Miss McIntosh said that nurses had to rush to the local shop for baby milk – while Miss McIntosh was put back in an ambulance to continue the journey to Inverness without her newborn.
The milk had to be fed from the lid of a bottle because of the lack of equipment.
The ambulance was unable to carry baby Skye because of the lack of an incubator on board.
Miss McIntosh was finally allowed to clean-up when she arrived in Inverness – and was reunited with her child about three-and-half-hours later.
She said: "It was horrible, really scary.
"It's scary to think what might have happened if something had been wrong.
"The midwife and the ambulance crew are not to blame, they did everything they could but I should never have left Wick."
She said she wanted to speak out about her experiences to prevent it from happening again.
Caithness MSP Gail Ross has written to the health board and Ms Robison about the incident which she said had left her "completely dismayed".
Ms Robison said she expected both NHS Highland and the Scottish Ambulance Service to act on the findings of their investigation.
NHS Highland said an initial investigation into the clinical circumstances has been carried out and a full review was due to be undertaken.
Elaine Mead, chief executive of the health board, said: "This is deeply regrettable and I apologise unreservedly.
"This has understandably been distressing for all concerned and in particularly for the family. I have written to the family to apologise and to offer to meet and discuss their experience."
A spokeswoman for the ambulance service said an "urgent review" would be held to determine what happened and how to "prevent future occurrences".