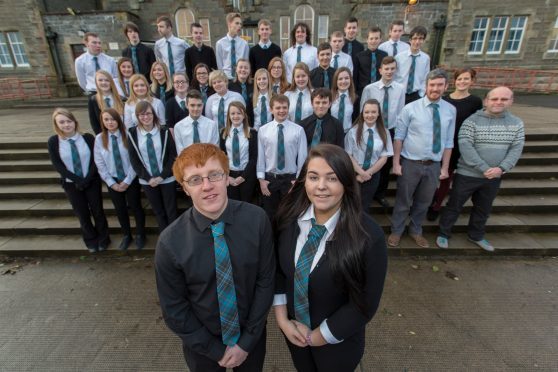 Sixth year pupils have been gifted brand new tartan ties to mark the opening of the new Wick Campus – despite the work having been beset by repeated delays.
Wick High School's parent council decided to hand out the ties to more than 60 pupils yesterday instead of leaving them in a box any longer.
The new £48.5million campus project was supposed to open in October this year but will not now be ready until at least January.
Earlier this year the school's head teacher of art, Craig Ross, came up with an idea for his third year pupils to design their own school tartan with the hope of unveiling them in time for the new school opening.
It was a project designed to feed into a Scottish Government-led initiative to develop a young workforce in schools.
A shortlist was created and a final design was agreed on which reflected the school's traditional crest colours of blue and gold, while incorporating greys and whites to symbolise the stonework of the 100-year-old building.
Local kilt shop owner Martin Gill also had input in the tartan design before it was sent away to a local supplier for production over the summer.
Depute rector Grant Mackenzie said: "The tartan is symbolic of the school itself and the school traditions. It is unique to Wick. The whole concept of the tartan was a visual representation of the school and where we have come from.
"We would like to say that, by sixth years wearing the ties, we encourage the rest of the years to take it on board. Eventually we would like to incorporate the tartan in more items such as scarves, iPad covers, shoes and bags.
"The ties were never really meant to be exactly linked to the move and we always decided that if we had the tartan before the opening then there was no sense in the ties staying in a box.
"We hope to be in the school at some point in the New Year."
Mr Mackenzie added that he hoped the tartan can be the focus of a social enterprise company within the school.
The ties were paid for through the school budget. Wick High School's current role is about 670 pupils.