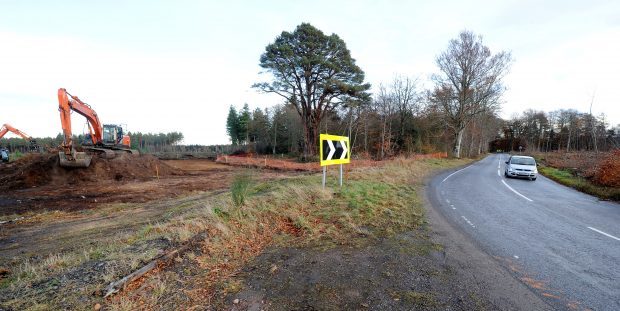 A north community leader is warning council planners that a road straightening project could increase the risk of crashes in the area.
A new straight under construction between Croy and Nairn will bypass a stretch known as "the leafy bends."
The work was approved under designated powers by Highland Council officers despite local concerns about the potential risk of speeding.
Glasgow-based civil engineering firm RJ McLeod (Contractors) Ltd beat six rival bidders for the £560,000 council contract.
The new 670-yard section will run from Kilravock Castle and rejoin the B9091 at the north bend before merging with the B9006 at Croy.
The leafy bends issue has featured on Croy and Culloden Moor Community Council agenda more often than anything in the past decade, according to long serving member and current chairman Bruce Strachan.
He said: "Some were concerned about the impact on a nice rural area, others about the fact that this will make traffic faster on their approach to the Clephanton junction, which is not a nice junction, and the Croy junction with the B9006.
"Some of the concern has been about the local habitat, trees and things.
"The council's argument is that there have 'recently' been two fatalities. The last one was five years ago. You can debate if that's recent.
"Warning signs went up after the last fatality five years ago and there haven't been any serious accidents since then."
As well as citing the two tragedies as grounds for altering the line of the route, Highland planning director Stuart Black has told the community council that there were also "significant economic benefits" to be gained from straightening the road.
In November 2011, James Mowat was injured in a single-vehicle crash on the Croy to Clephanton Road.
The 70-year-old died at his home in Croy, within a mile of crash scene, five hours later. In September 2010, Culloden man Martyn MacLeod, 25, died in a Renault Clio after it left the same stretch of road.