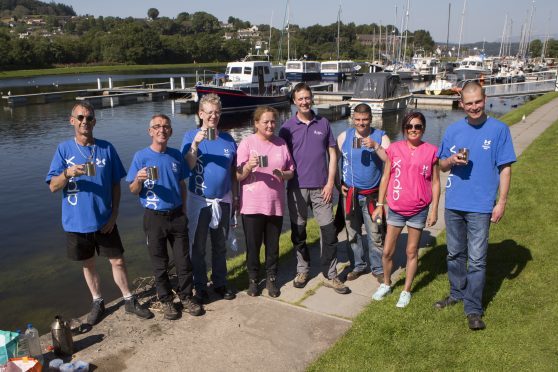 A new project will aim to bring together thousands of Highland residents living near the Caledonian Canal.
The "Canal Life" initiative will offer a range of volunteering opportunities to grow interest in heritage and conservation along the famous waterway.
Volunteers will be asked to help undertake tasks from planting wildflowers and trees to canal side stonework, to help safeguard important canal side buildings and structures.
The project is being run by the Scottish Waterways Trust, the country's only national waterways charity.
It aims to engage with more than 3,000 people along the historic 60-mile canal from Inverness to Corpach over the next two years.
Stephen Wiseman, the trust's canal heritage officer, is leading the project and has already begun the work.
He is creating outdoors educational opportunities for schoolchildren, designed to spark interest in the canal's colourful history and unique biodiversity.
A series of public events, workshops and guided walks and cycles are encouraging physical activity, helping people connect with their local canal and surrounding greenspace and promoting the healthy benefits it has to offer including improved physical and mental health.
Karen Moore, chief executive of Scottish Waterways Trust said: "We are delighted to bring more engaging activities and volunteering opportunities to the Highlands over the next two years through Canal Life.
"We know from our previous work that projects like these offer many benefits because they help people in local communities, many of which are disadvantaged, learn new skills and make new friends whilst conserving and enhancing the local historic environment.
"I am looking forward to seeing more people of all ages and abilities benefiting from the unique canal environment and contributing to the ongoing care of this stunning part of Scotland's heritage."
The project also enables Scottish Waterways Trust to continue developing its 'Nature Walks for Wellbeing', a series of wellbeing walks along the canal providing real benefits to psychiatric patients experiencing mental health problems.
Funding has been provided by the Heritage Lottery Fund, Hugh Fraser Foundation, Postcode Local Trust and The Robertson Trust.