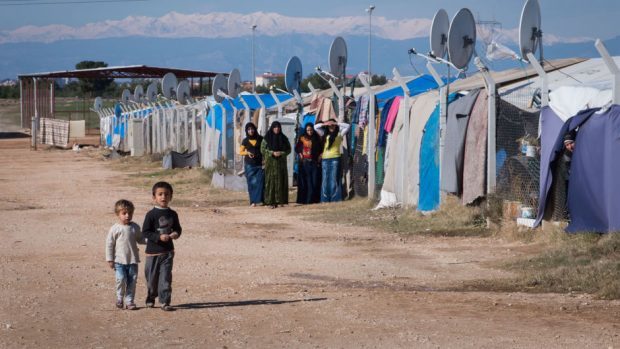 A Highland husband and wife who left their Black Isle home to help Syrian refugees have today spoken of the ongoing plight of those stuck in Greece.
Andy and Frances Nixseaman have been volunteering on the island of Chios since January.
Already a desperate situation in what is essentially a giant holding pen, the circumstances deteriorated further last week when the camp at Souda was attacked over two consecutive nights.
Far right group Golden Dawn is believed to be responsible for the siege during which rocks the size of breeze blocks and Molotov cocktails were hurled.
Tents burned down, some people were injured and a number of volunteers arrested.
Mr Nixseaman, who used to be chief operating officer at the Calman Trust in Inverness, said fireworks were also thrown, which was especially frightening for the children who had fled Aleppo.
The violence prompted dozens to flee the camp and many are now too scared to go back, fearful of another assault.
Mr Nixseaman, 53, from Mulbuie, said he was not there in any political capacity, but called for the asylum process to be speeded up.
He added: "I would like and hope the EU fulfils its obligations.
"My real fear is that the UK will now say we have done our bit. We are a long way from doing our bit.
"It's completely and utterly soul destroying. There are people who we have got to know over the last seven to eight months.
"When they first came they would greet you with a smile, now they are broken. There's an overwhelming sense of depression, now mixed with fear."
He said the latest figures he saw showed there were around 67,000 refugees in Greece.
"To put it into context, that broadly fills Murrayfield Stadium. Europe as a continent must be able to deal with that number of people," he added.
The couple, who rented their house to fund the trip, are volunteers with The Highlands Support Refugees (THSR). While in Greece, they have been working with the Chios
Eastern Shore Response Team, a collective of independent volunteers.
Their role includes participating in night patrols, meeting the boats that are still coming in, providing first aid and handing out food and dry clothes.
The pair, whose children have also volunteered, hope to stay to wave goodbye to the very last refugee, but Mr Nixseaman said the experience had been both emotionally and physically exhausting.