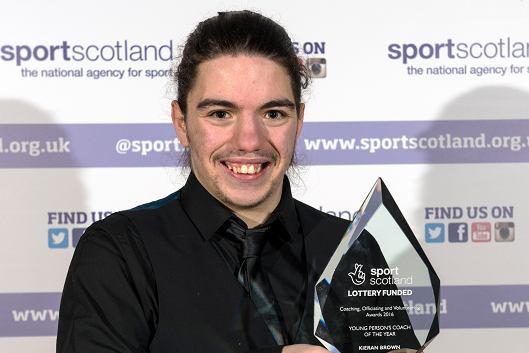 A leading gymnastics coach from the Highlands has picked up a national award for his commitment to others.
Alness man Kieran Brown travelled down to Glasgow this week for the SportScotland Coaching Officiating and Volunteer Awards where he was given the Young Person's Coach of the Year Award.
The 19-year-old was given a trophy, certificate and £300 to develop his coaching.
Through his Street Gym programme, Mr Brown has developed a safe environment which allows youngsters to take part in gymnastics.
He works with people between the ages of eight and 18 and is in high demand from schools, youth groups and leisure clubs.
Mr Brown explained how his passion for the activity came about.
He said: "I originally started doing work experience at Fyrish Gymnastic Club and I was delighted when my coach asked me if I wanted to get involved on a permanent basis.
"The kids are all really great.
"I never feel like I'm coaching them, it feels like I am coming in to help friends."
And far from being content with his recent success, Mr Brown has further goals for his class.
He said: "My dream is for our Street Gym to become a national class, and for it to be recognised all over Scotland.
He added: "I'm delighted to be named as the winner of the SportScotland Young Person's Coach of the Year Award."
He was nominated by his club coach Claire Bath, who was full of praise for his efforts.
She said: "Without Kieran, we couldn't run the classes in the gym or in the local schools.
"His relationship with our younger members is perfect – he is seen as the cool coach and someone they can relate to so easily.
"Kieran is a perfect example of self-belief and commitment.
"He realises the impact he can make and has reinvigorated our boys' gymnastic team, going from around 20 boys to now over 50 attending each week.
"I'm very proud of Kieran and all that he has achieved."
Mr Brown was among ten leading coaches from across Scotland to be awarded on the night.
Steve Harris, the chief executive of SportScotland, said he was a "perfect example."
"Kieran has undeniably helped inspire our younger generation to participate in sport through his coaching techniques.
"He is the perfect example of what self-belief and commitment can do with his sporting career developing at a fast pace.
"He truly cares about the children's personal development, health and wellbeing.
"The impact he is making at a young age is nothing short of exceptional. I congratulate Kieran on becoming SportScotland's Young Person's Coach of the Year for 2016."
He was full of praise for the impact of sporting volunteers across the country.
He said: "Every year across the country, thousands of dedicated volunteers devote their time, knowledge and skills to help others achieve their sporting goals.
"It's an honour that SportScotland has the opportunity to thank them for all that they're doing to ensure Scotland's sporting generation receives unrivalled coaching to enable them to compete at world class level."