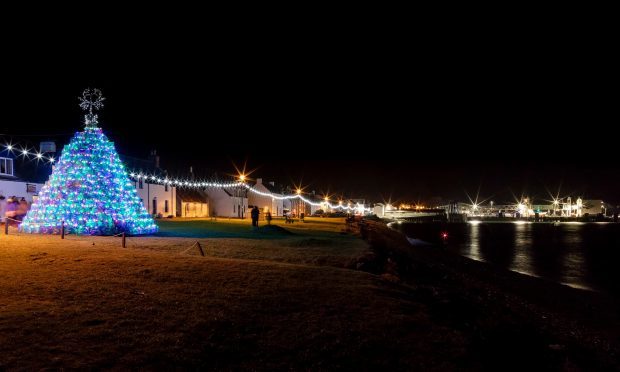 Ullapool joined the world last night, illuminating itself for Christmas for the first time.
A community effort ensured the Wester Ross port its first traditional festive lights celebration.
Hundreds of revellers witnessed the switch-on from land and loch as vessels in and around the harbour played a part.
Many local retailers stayed open for a late night shopping event to mark the moment.
The colourful display was orchestrated by community group the Ullapool Fire and Light Fund and features a 16ft Christmas tree created from creels, normally used for catching prawns or crabs. A real 24ft tall tree stands proudly over the harbour entrance.
The occasion featured coordinated lights on yachts, dinghies and fishing boats in Ullapool harbour.
Rob Hicks, a member of the organising Ullapool Fire and Light Fund, said: "I've been overwhelmed by the turnout. The whole of Shore Street is packed with cars.
"It's been an emotional event. The shops have been buzzing with late-night shopping and the ferry pulled out all the stops. It came out, turned on its axis, faced the village and blew its horn; its searchlights going.
"A finely tuned machine, everything popped on all at the same time.
"We're only an hour from Inverness. We hope people will make the journey to see the lights."
Caledonian MacBrayne superferry the MV Loch Seaforth's horn was sounded as it left the village at 5.30pm, signalling the great switch-on.
Its master John Gillies said: "We were delighted to be part of it. We really feel part of the Ullapool community."
Eight years in the planning, the necessary funds were provided by the Awards for All initiative, Ullapool Harbour Trust, the Loopallu music festival, local businesses and individuals.
Mr Hicks also paid tribute to "the small army of volunteers" who played a part.