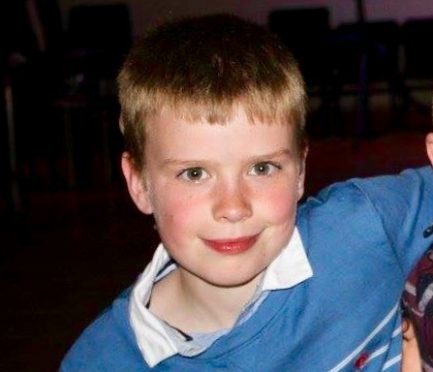 When the small Highland community of Edderton heard a local schoolboy had been diagnosed with leukaemia, they wanted to do something to help.
Eleven-year-old Jordan Ross's friends and neighbours put their heads together inthe hope of raising a few hundred pounds to make money less of an issue for him and his family as they travelled to and from Glasgow for treatment.
But after just one day of online fundraising, they had broken the £3,000 barrier – and the total continues to rise.
Edderton Primary School pupil Jordan Ross became ill last week and is now in a children's hospital in Glasgow with mum Stacey, dad Robert and little brother Ally, nine, by his side.
Donna Laing, a dinner lady at the school, sprang into action launching a crowdfunding page to support the family through this difficult time.
And fellow pupil Lauryn Johnson, who is aged only eight years old, has offered to have seven inches cut from her long blonde hair to raise sponsorship. She will donate the hair to a children's cancer charity which makes wigs for girls and boys who have gone through treatment.
Donna Laing said: "It is a small community and there are only 18 pupils in the school.
"I just thought we could do something to help Jordan's mum and dad out as much as possible in the situation they are in.
"They just found out at the beginning of this week. He took not well last week. They have been down in Glasgow all week at the specialist children's hospital.
"I know how expensive it is to be away from home and the travelling up and down. We have heard that he could be there for some time.
"We just want to make life a bit easier for them all. It is a really difficult time and they don't need any other worries."
She started the page www.justgiving.com/crowdfunding/donna-laing/coverphoto on Thursday lunchtime and by yesterday morning a total of more than £3,000 had been raised by people from Edderton, Tain and surrounding areas.
She said: "I didn't think it would happen so quick, it has been amazing. I feel so lucky to live in an area where people are so kind.
"The children at the school are just like a family. They are all very close. They all want Jordan home."
A charity football match has been organised by Tain Thistle Football Club on Sunday December 11 and a fundraising ceilidh is also being planned.
Tain Royal Academy is organising a no uniform day.