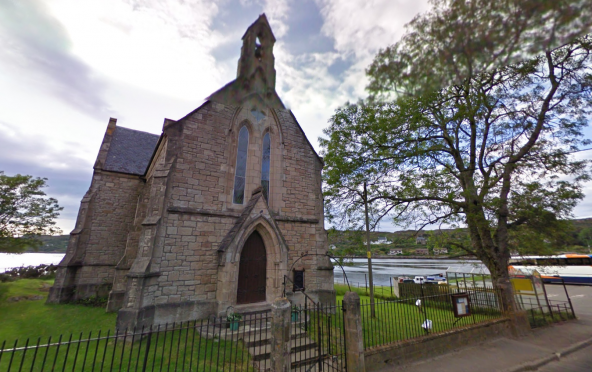 Bystanders watched on helplessly after a woman died in a burning car near a Highland church.
The incident happened outside Sutherland village which has been without an operational fire crew for more than two years.
A fisherman even tried to put out the inferno with a fire extinguisher.
The tragic incident has led to renewed calls for a relaxation of the regulations to allow rural communities to recruit fire fighters.
Calls have previously been made for the Scottish Fire and Rescue Service to change the requirements in remote and rural areas.
Rules on minimum staffing mean volunteers in Lochinver cannot use their fire appliance.
But on Friday an incident happened that rocked the village.
According to local reports, the 37-year-old, woman drove to the nearby car park near the Assynt Church of Scotland building, which is just over half-a-mile from the fire station.
Her Skoda exploded into flames. A fire crew from Achiltibuie – 45 minutes away – was sent. But they found a tangled, burning wreck.
One local, who did not wish to be named, said: "In this case nothing could have been done to save her, but if this had been a house with people trapped inside – it could have been a very different story with equally tragic consequences."
Police did not name the woman – who had lived at Stoer, seven miles from Lochinver, for a number of years – but said there did not appear to be any suspicious circumstances.
A Police Scotland spokeswoman said: "At around 4.45pm on Friday, emergency services attended a car on fire at Lochinver. Sadly a woman in her thirties died at the scene.
"Next of kin have been informed. Enquiries are continuing into the incident but there does not appear to be any suspicious circumstances. As with all sudden deaths a report will be sent to the Procurator Fiscal."
Deputy Chief Fire Officer Alex Clark said: "Sadly a woman died in this incident and our thoughts are with her family and friends at this difficult time."
He added: "Our retained firefighters play an absolutely vital role. This is why we have launched a new recruitment campaign and appealed for people in rural and remote areas such as Lochinver to step forward and help protect their community at times of need.
"Anyone who is interested in becoming a retained firefighter can access information on our website. They can also contact their local fire station where they can discuss the process with one of our officers."
Community leaders say greater flexibility is needed in crew numbers and training.
Lochinver Community Council chairman David Slator has said the four weeks of training required to sign up as a retained firefighter puts many people off volunteering.
In a statement, following Friday's tragedy, he said: "This is a very tragic incident and the community is very distressed by it.
"If our fire tender had been available it is unclear if it would have affected the outcome.
"However the community – and especially those at the scene trying to help – would have felt that we had done all we could in this tragic situation.
"The community council will continue to worth with the SFRS in trying to resolve the crewing of the Lochinver Fire Station as fast as possible. We wish to extend our condolences to the lady's family."
SFRS says it will not cut back on safety, but is introducing new ways to train up more firefighters.
Fire stations throughout the Highlands and Islands depend heavily on volunteers who are paid a retainer and a call-out fee to attend incidents.
Councillors are urging SFRS to relax the rules so that at least some willing volunteers can attend emergencies.
Caithness councillor and former senior police officer Matthew Reiss has said it was time for the fire service to review its rules on the required make-up of fire crews.
"For example, if you are trapped in your car in a road accident the fire brigade insists that four firefighters must be on the fire engine before it physically leaves the station," he said.
"As a retired police officer my view would be to do what you can. If one police officer is available he or she would go to that call, and the same for the ambulance service."
The SFRS said it cannot cut corners on training but area manager John Macdonald is looking at ways to make it more accessible for people living and working in rural areas.
He recently said: "Firefighting is an inherently dangerous and risky activity and therefore it would be wholly inappropriate for me to reduce the level of training that is designed to make these people safe when they respond to incidents.
"What I can do though, and there is some flexibility for me to do that, is to look at how we deliver the training.
"There is some scope for me there to look at perhaps a more modularised approach to how we deliver training and take the training to the individual."
Mr Macdonald also said money was being invested in the fire service which would bring benefits to cover in the Highlands and Islands.
He added: "This is a service for the community by the community and we need people to step forward and help protect the communities in which they live."
In December last year, 12 Lochinver residents said they were interested in becoming retained firefighters.
In April 2014, the dwindling numbers of fully trained firefighters led to the Lochinver fire appliance becoming unavailable to respond to operational incidents.
Samaritans are available 24 hours a day, every day of the year, on 116 123.
People can also call Breathing Space on 0800 838587.