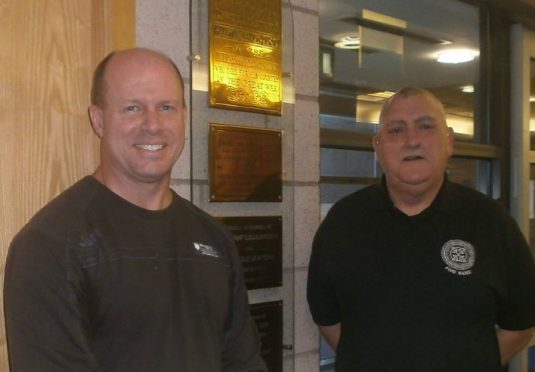 An Australian police officer has made a poignant pilgrimage to the Highlands – where his great-great grandfather was shot dead in the line of duty 118 years ago.
Inspector Trevor Gould, of Queensland Police Service, visited the region's police headquarters in Inverness to view the memorial plaque erected for Constable Thomas King.
Constable King was murdered on December 20, 1898, at a cottage in the forest at Tulloch, near Nethy Bridge.
It was the last time that an officer in the Highlands and islands was killed through criminal violence.
The 46-year-old had been stationed in the community and was accompanied by colleague Constable John MacNiven, of Boat of Garten, as they attempted to arrest local poacher Alan MacCallum.
Having waited all day for MacCallum to emerge, the unarmed officers approached the cottage at about 4pm after witnessing the female occupants leave.
After shouting to MacCallum, and receiving an unthreatening acknowledgement from him, Constable King entered the home with his junior colleague.
As he walked into the kitchen, Constable King was shot at close range by MacCallum and died immediately as the assailant ran off.
The killing sparked a widespread manhunt before MacCallum was caught hiding in an outbuilding some distance away, several days later.
He was subsequently convicted of culpable homicide and jailed for 15 years, but there was outrage at the time that he had not been convicted of murder, and sentenced to death.
Constable King's wife Jessie and family subsequently emigrated to Australia.
Three of Constable King's great-grandsons attended a service to mark the centenary of his death in 1998.
Now Brisbane-based Inspector Gould, a great-great grandson, has made the same trip.
Dave Conner, retired Northern Constabulary officer and historian, presented Insp Gould with examples of the shoulder insignia and uniform buttons his relative would have worn, as well as an insignia of Northern Constabulary Pipe Band, and also a copy of the historical booklet he compiled in 1998 for the ceremony.
Insp Gould presented Superintendent Ross MacKillop with several mementos, including a framed insignia display to commemorate his visit, and a plaque of the Queensland Police Pipes and Drums.
"We must not forget the supreme sacrifice of PC King," said Mr Conner.