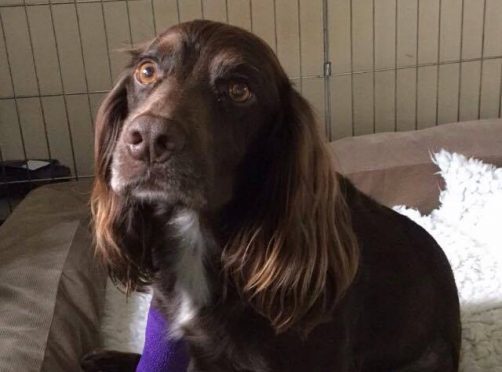 David Kerr
A cocker spaniel who plunged 60ft off a Highland dam has won a national award for her miraculous recovery.
Two-year-old Darcy suffered horrific injuries when she jumped over a wall and fell at Glascarnoch Dam between Inverness and Ullapool in July.
The working dog suffered several broken bones, a collapsed lung, damaged liver and a ruptured spleen – which later had to be removed.
But despite the "multiple life-threatening injuries" she has pulled through after emergency surgery at the vets in Conon Bridge and then lengthy hospitalisation at Parkside Vets in Dundee.
And now she has been crowned "Pet Survivor of the Year" by the animal charity PDSA in its annual awards.
Owner Gordon Lyon said: "Darcy has come through such a traumatic experience, and our huge thanks go to all the people, too numerous to mention, who have helped her along the way.
"We're beyond delighted that she has now won such a prestigious award, particularly against such worthy competition."
Darcy was being taken north by Mr Lyon and his wife Wendy for a holiday at Lochinver when they stopped at the dam to allow Darcy to stretch her legs.
However, she inexplicably jumped and fell down the slipway and had to be rescued by firefighters.
The vet in Conon Bridge performed emergency surgery to stop internal bleeding.
The spaniel was then taken to Dundee for specialist treatment, undergoing three further operations and months of rehabilitation.
At first it was not clear if Darcy would ever walk again, but her recovery has been described as "miraculous" by her vets.
Vet Hal Drummond, who conducted Darcy's emergency surgery in Conon Bridge was recently reunited with Darcy when he moved to Parkside Vets.
He said: "When we first saw Darcy after her accident I was uncertain she would survive, and even then it wasn't guaranteed that she would ever walk again."
"To see her running around now is nothing short of miraculous.
"She is an incredibly brave, sweet-natured dog, and everyone who has helped in Darcy's recovery is delighted that she's won PDSA Pet Survivor."