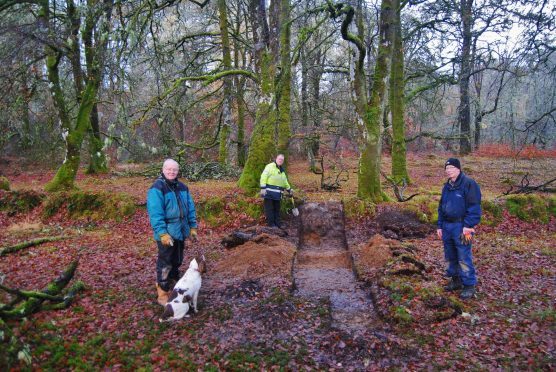 A group of archeologists has uncovered evidence which casts doubt on a 150-year-old claim that a tree-lined avenue in Lochaber was a ceremonial roadway.
Banquo's Walk runs through an area of woodland near Fort William between the River Lochy and the Caledonian Canal, in the direction of Tor Castle ruins.
The walk is known for its inexplicably wide road surface lined by parallel banks on both sides, giving the impression of a grand, though disused, roadway more than 26ft wide.
It was named after the semi-historical figure Banquo, Thane of Lochaber, who features most notably in Shakespeare's Macbeth.
Ordnance survey name book accounts from 1872 first refer to the site as Banquo's Walk, forming part of a road alignment leading to the castle, referred to in the same year as Banquo's House.
King James VI named Banquo as an ancestor, as did the clan Macintosh and clan Cameron, who both occupied Tor Castle.
Since then, Banquo's Walk was believed to be a monumental road leading to the castle site.
But last month, trench evaluation work was carried out by the Lochaber Archaeological Society in conjunction with staff from AOC Archeology's Inverness office at the site.
Archaeological society member Clive Talbot said: "Our excavation revealed indeed that there was no road surface present over the defined area of Banquo's Walk – it was in fact the location of a natural clay layer that was clearly present out with the banks, but was largely missing from within the banks.
"Looking at the surviving natural layers and after further excavation through the banks, we realised that the surface of Banquo's Walk had been lowered by the removal these natural deposits and the banks had been built with the upcast."
Group leader Mary Peteranna, of AOC Archaeology's Inverness office, said that the best possible explanation for the construction of Banquo's Walk was for clay extraction.
She added: "We can tell from historical mapping that this took place before the mid 19th century, and its location happens to coincide with an early road in use before construction of the Caledonian Canal in the early 1800s.
"It is very possible that the clay was mined here for canal construction, and we know that 'puddling' or using clay to line the canals was one possible use. But one thing is certain and that is Banquo's Walk was not a ceremonial or processional route to Tor Castle."