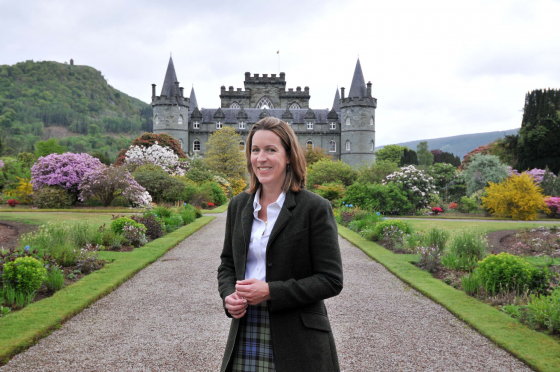 One of Argyll's most influential figures has accepted an invitation to join a local tourism body.
The Duchess of Argyll will join the board of Argyll and the Isles Tourism Co-operative (AITC) in the role of honorary chairwoman, helping to market and raise awareness of the area as a great place to live, work and visit.
She said she was delighted to be asked to join the body as the ceremonial head.
"I'd be delighted to accept – but more importantly to be part of such a great and dynamic group that drives such an amazing area forward," she added.
The duchess, who lives in Inveraray Castle – the ancestral seat of Clan Campbell – with her husband Torquil, the 13th duke, and their three children, also runs it as a popular visitor attraction.
They host the Best of the West Festival in the grounds of the castle one weekend every September.
AITC chairman Gavin Dick welcomed the duchess to the board saying: "I am absolutely thrilled Eleanor has accepted our invitation. AITC is almost five years old, and in this period we have made a significant impact in a number of areas, from attending VisitScotland EXPO, where we have been present every year since 2012, to our newest ventures with Wild About Argyll.
"We also have two major skills programmes underway looking at World Host customer care and digital tourism, aimed at equipping our tourism businesses with the digital tools they need in this digitally connected world.
"AITC is entering a new chapter and we are extremely fortunate to able to take this key step forward with someone who understands the importance of our work, is passionate about Argyll and the Isles and who has the vision and credibility to speak on behalf of the organisation."