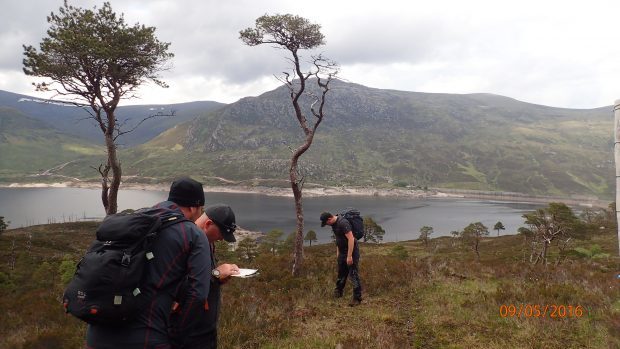 They brought injured veterans here for our particular brand of fresh air – and now they are making it permanent.
Adventure Quest UK has set up a permanent base at Cannich, near Beauly, from which it is operating therapeutic mountain challenges for injured veterans.
The programme gives wounded, sick and injured former soldiers the opportunity to learn mountain skills such as map reading, rope work, reading weather charts, and geology.
Adventure Quest UK is funded by Help for Heroes.
Courses, which range from three to six days, can be adapted for those with physical injuries, including amputees.
The community interest company, which has run seven courses in the Highlands so far, was so impressed by the natural landscape on offer that they set up a permanent base here and want to encourage more Scottish veterans to take part in their courses.
Managing director Paul Lefever said: "We run courses in Wales and the Lake District but the Scottish Highlands are so much bigger and have so much more variety. There are munros, glens and lochs all within easy reach. The area is particularly good for winter courses and other activities that are really popular – there is nowhere else in the UK that comes close.
"The course is unique in that it has been specifically devised for people experiencing mental ill health and delivered by people who understand the difficulties that many face when leaving the armed forces."
Up to 12 veterans at a time go "into the hills" on foot, by bike or canoe for a few days at a time with a leader, learning bushcraft skills alongside coping strategies to help manage their mental health.
Ian, from Angus, who was diagnosed with PTSD in 2011, has benefitted so much from the trips that he is now doing his mountain leader qualification.
He said: "It's been brilliant. The atmosphere is very relaxed. It gives me something to look forward to, I've got fitter, rediscovered my love of the mountains and made new friends. I have met like-minded people with a great sense of humour. We meet up and keep in touch between walks. It is one of the best things I've done and I can build my recovery around it."
Help for Heroes is keen to promote the benefits of Adventure Quest UK as they have launched a campaign this week to raise awareness of its mental health service, Hidden Wounds.