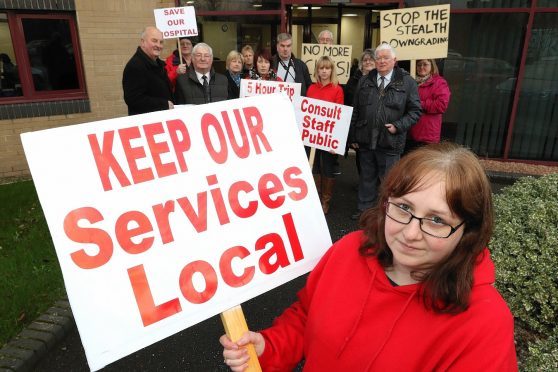 A campaign group is launching its own "baby boxes" for Highland mothers facing a 100-mile trip to Inverness to give birth.
The kits – dubbed the "100 Mile Helper" – will be produced by the Caithness Health Action Team (Chat), which was formed to battle against local hospital cuts.
The move follows the revelation last week that only 20% of expectant mums were able to give birth at Caithness General Hospital last year because of restrictions introduced following the death of a baby girl in Wick in 2015.
The figure represented a huge drop from previous years, when about two-thirds of mothers from the county had their babies delivered locally.
With more and more mums having to make the 100-mile journey to Raigmore Hospital, a series of alarming problems have emerged in recent months, including ambulances which were not properly equipped, and parents having to make repeated trips up and down the A9.
With echoes of the Scottish Government's recently-launched baby box scheme for new mothers, the helper kits from Chat aims to assist expectant mums from Caithness who are sent to Raigmore.
There will be two types, one for women sent south at short notice, which will include basic first aid kits, maps, towels, blankets, pillows, wet wipes, steriliser gel, bottled water, notebooks and pens and overnight essentials.
The other one is aimed at mothers who have to make the journey at short notice, and will include nappies, wipes, blanket, hygiene products for mum and heat packs.
Chat secretary Nicola Sinclair said: "This is the 'action' part of Caithness Health Action Team. We're not just here to campaign, though that's an important part of what we do.
"We also want to provide positive, practical support to patients in our community. The 100 Mile Helper idea came about as a response to all the stories we've been receiving about fraught, stressful and even dangerous journeys down the A9, often in adverse weather."
The group's vice chairwoman Kirsteen Campbell said: "We were concerned that patients could be put at great risk if the road closes, and that's exactly what happened this weekend. Thankfully nobody was hurt and the babies were delivered safely, but this was more by luck rather than design."
The group hopes to have the kits ready for distribution by spring.
A spokesman for the health board said: "NHS Highland is meeting with Caithness Health Action Team this week to address any concerns they may have."