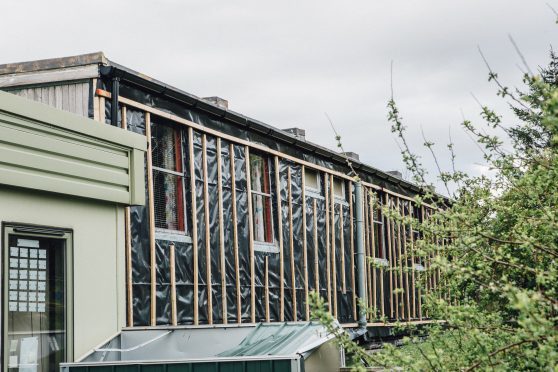 Pupils at a Highland school will be removed from a classroom described as bringing "shame on the Scottish education system" next week.
Pupils at Broadford Primary will finally be removed from the damp infested block after a campaign by fed-up parents.
At present the school's P4-7 Gaelic medium class and a special needs unit are housed in a modular block meant as a temporary solution – which includes a wall externally finished with only timber and plastic sheets.
A replacement unit arrived at the Skye school on December 21 – but staff and pupils have been unable to use it because of problems connecting utilities.
Even the new unit is another temporary measure – with a larger demountable building due on site around Easter.
Local councillor Hamish Fraser and the school's parent council chairwoman Norma Morrison said last night they had been given assurances that the pupils would be housed in the newer unit on Monday.
Mrs Morrison said it was "disappointing" that the unit was not available immediately after Christmas but said she was pleased that progress had been made.
She praised the school and the teachers for their "brilliant" work but said the building was in "desperate" need of improvement.
Mr Fraser said he was "delighted" that the children would be moved from the "unacceptable" current arrangement, describing it as a "good local outcome".
Skye MSP Kate Forbes said she has been in regular contact with parents at the school which she described as being "in a very poor state of repair".
She said: "In one of the classrooms, where children are still being taught in plummeting temperatures, I've been told about, and shown photographs of, one wall covered in tarpaulin which brings disgrace to the Scottish education system."
She said she has been in contact with cabinet secretary for education John Swinney who has agreed to press the council for a solution – saying she has been assured new units would be in place by Easter.
Ms Forbes added: "It concerns me that although a temporary unit was installed over Christmas, the children can't move in yet as it is still unconnected to utilities and there is no move-in date.
"Progress is urgently needed and the council's plans will improve the situation considerably.
"Even allowing for enormous financial constraints on budgets, everyone wants the best for pupils and teachers, and I hope the council can work with parents and local elected representatives like myself to achieve positive change."
Norma Young, area care and learning manager said: "Pupils will move into the new classroom on Monday.
"All resources are to be moved across over the weekend. We are very pleased to have been able to provide a temporary classroom in the interim.
"The new classroom will be in place for Easter and to accommodate the demolition of the old building, an additional two days have been allocated to mid-term break to enable the work to be undertaken safely."