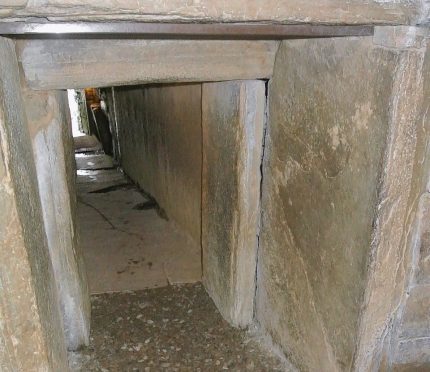 Tourists travelling to one of Orkney's most impressive chambered cairns could soon benefit from a new visitor centre.
Maeshowe Chambered Cairn is a world heritage site not far from the famous Skara Brae, another neolithic site.
Last year Maeshowe was briefly closed and has since reopened with a new shuttle bus service after concerns were raised about the safety of its surroundings.
The issue was raised in the Scottish Parliament in October by Orkney MSP Liam McArthur, who called on Nicola Sturgeon to encourage Historic Environment Scotland to act on planning permission for a new visitor centre, car park and pedestrian underpass.
The public body has now submitted a planning application to Orkney Islands Council following agreement from councillors that the former Stenness Day Centre could be used for visitors to the chambered cairn.
The proposal has been submitted in the hope that changes to the car park and on-site signage can be made ahead of the start of the summer season.
A shuttle bus would operate between the visitor centre and the historic site, with hourly supervised tours from knowledgeable staff ensuring both the protection of the cairn and a high quality visitor experience.
Moving the Tormiston Mill Visitor Centre to Stenness would enable HES to improve visitor and staff facilities and parking, as well as providing a separate shuttle bus area to help ease congestion.
The organisation is also developing new interpretation, and planning to introduce virtual reality headsets in order to give visitors a truly immersive introduction to the site.
Access to the site would continue to be by guided tour only, and as with the previous visitor centre coaches would not be permitted without a booked guided tour and prior arrangement.
Lucy Vaughan, head of conservation north for HES said: "We are delighted that Orkney Islands Council has voted to allow us the use of the Stenness Day Care Centre for the next two years, and hope to have this operational as a visitor centre for the start of the busy tourist season.
"Site teams and management continue to engage with key partners locally and within the World Heritage Area, and we will continue to run three daily tours to the site via the Skara Brae visitor centre whilst we get the interim visitor centre up and running. We are committed to finding a long-term, sustainable future for Maeshowe Chambered Cairn, and discussions on this are ongoing."