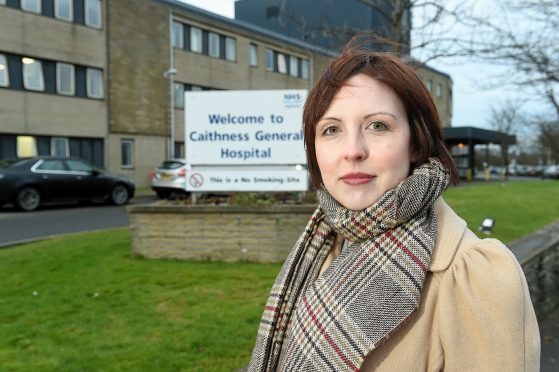 NHS Highland has insisted that controversial changes to maternity services in Caithness will provide a "better service" when they begin to be introduced next week.
The health board has sent letters to all expectant mothers in the county about the shake-up, due to start from Monday.
Midwives based at the Henderson Wing at Caithness General Hospital in Wick will move to an on-call service between 8pm to 8am next week.
It is part of a switch from a consultant-led maternity service to midwife-led, which has been branded a "downgrade" by furious mothers.
Outlining the change, the area's lead midwife Mary Burnside said: "This means if someone needs to speak with a midwife between 8pm and 8am they will contact the midwife on duty in the labour Suite in Raigmore Hospital.
"They will provide advice but if local assessment is required they will contact the local 'on-call' midwife and arrange for this to happen at Caithness General Hospital in a timely manner.
"The reason for this change is that the number of calls and assessment overnight is very low or nil.
"By moving to on-call, midwives will be able to provide a better service during the day and therefore make the best use of their skills to provide greater ante natal and post natal care."
From Monday, the consultant obstetricians covering Caithness General will also no longer be on-call overnight or available after 5pm and at weekends.
The move is the next step in the transition to move to fully implementing a midwife-led Community Maternity Unit by April 1.
Dr Lucy Caird, consultant obstetrician at Raigmore, said tests of the new arrangements showed they were "working as planned".
Nicola Sinclair, secretary of the campaign group Caithness Health Action Team, said: "We remain concerned that this new staffing model introduces delays and risks into an already worrying transfer process.
"For instance, in some cases a mum could be assessed over the phone and told to proceed directly to Raigmore by car, but what if that mother underestimated how far along her labour was?
"What if the baby was in distress, which would not be spotted in a triage by phone?
"Additionally, many patients will have to go to Caithness General for further assessment and wait for a midwife to be paged, then subsequently sent to Inverness, introducing further delay into a long journey to have her baby."